I Learned That I Was Crazy When She Caught Lice
---
**I wrote this and never posted it! Join me as we jump back to July.**
I was brushing her hair right up until the moment that my heart stopped.
"Is her hair moving? Why the hell is her hair moving? No freaking way is her hair moving" I find myself thinking as my brain is scrambling to wrap it's tiny little confused brain cells around any plausible explanation for what I am seeing.
Yep, something is moving alright, but it's not her hair.
It's a bug. Oh no wait….it's not "a" bug, it's "bug's."
Lice to be exact.
Have you ever had one of those moments where you suddenly feel as if you are the dirtiest person on the planet? No? Just me? Well let me tell you, I've had that week. The entire freaking week has left me walking around feeling as though I need to tent my house for extermination, take a bath in bleach, and send the children off to daycare inside of large Ziploc bags to protect them from other germy people.
First the Boy Child came home from daycare with a lovely case of
hand, foot, and mouth disease.
Next I realized that there was a mouse in my house and now I find myself sitting here staring at the head of my daughter….who apparently has lice. 
Wait….do I have lice too? Is my head itching? Yes, my head is definitely itching BECAUSE OF ALL THE LICE I MOST CERTAINLY HAVE.
I make a call to the daycare center that my children attend and the director barely finishes saying hello before I blurt out "Hi, you know how sometimes you call me and say things that I don't want to hear, things like "hey your kid just threw up and you have to come and get them? Well….my turn. My kid has lice and I think she got it from another child at your center."
Sure enough, they check and she is only one of about 7 little girls that are now growing their very own personal lice farms right on top of their teeny tiny heads.
Gag. Me. Now.

After I managed to calm myself down from nearly passing out due to a combination of a panic induced heart attack and anxiety induced hyperventilation, I did a quick Google search looking for a lice removal company. I was certain that if you can hire a company to pick up dog poop in your yard, you can most certainly hire someone to pick bugs out of your hair.
Sure enough, there were two places right in my town.
I obviously wasted no time in calling them so they could exterminize my child. Through my panic stricken voice I managed to squeak out "Hi, yes, my daughter has lice and I have a bad case of hypochondria so I'd like to make an appointment for both of us. When? How about right now."
They give me a quote that while isn't cheap, isn't entirely unreasonable (considering that I might have actually been willing to sign over my bank account just to GET RID OF THE LICE). I do a few mathematical calculations
on my cellphone
in my head and realize that in my current financial situation, it is better for me to fork over the money to a professional so that the daycare center will allow the Girl Child to come back right away, rather than attempt to remove it myself and miss work due to the daycare policy requiring that you keep your child home for several days after a lice diagnosis (I confirmed with the director that she could come back right away if I had her professionaly nit-picked).
I'm also fully aware that while I could pick bugs off the Girl Child's head, I can't figure out how to investigate my own head and I'm a bit too mortified to call one of my girlfriends and ask them to come pick bugs out of my hair.
Fun times.
Ten minutes later we are on our way, her happily chatting in the backseat, me swatting at my own head as I delve further into the abyss of paranoia that is convincing me that the lice are not only breeding in my hair, but that they have already formed a government, set up a school system, and are building a subway line from my right ear to my left.
We arrive at the lice salon where we are greeted by two overly happy women holding some very scary looking combs. Once settled into our salon chairs, my daughter having chosen a movie and being given a portable DVD player, they get to work.
I'm fully aware that this is a place where people routinely come while wearing their own head critter farms, and I'm afraid to touch anything.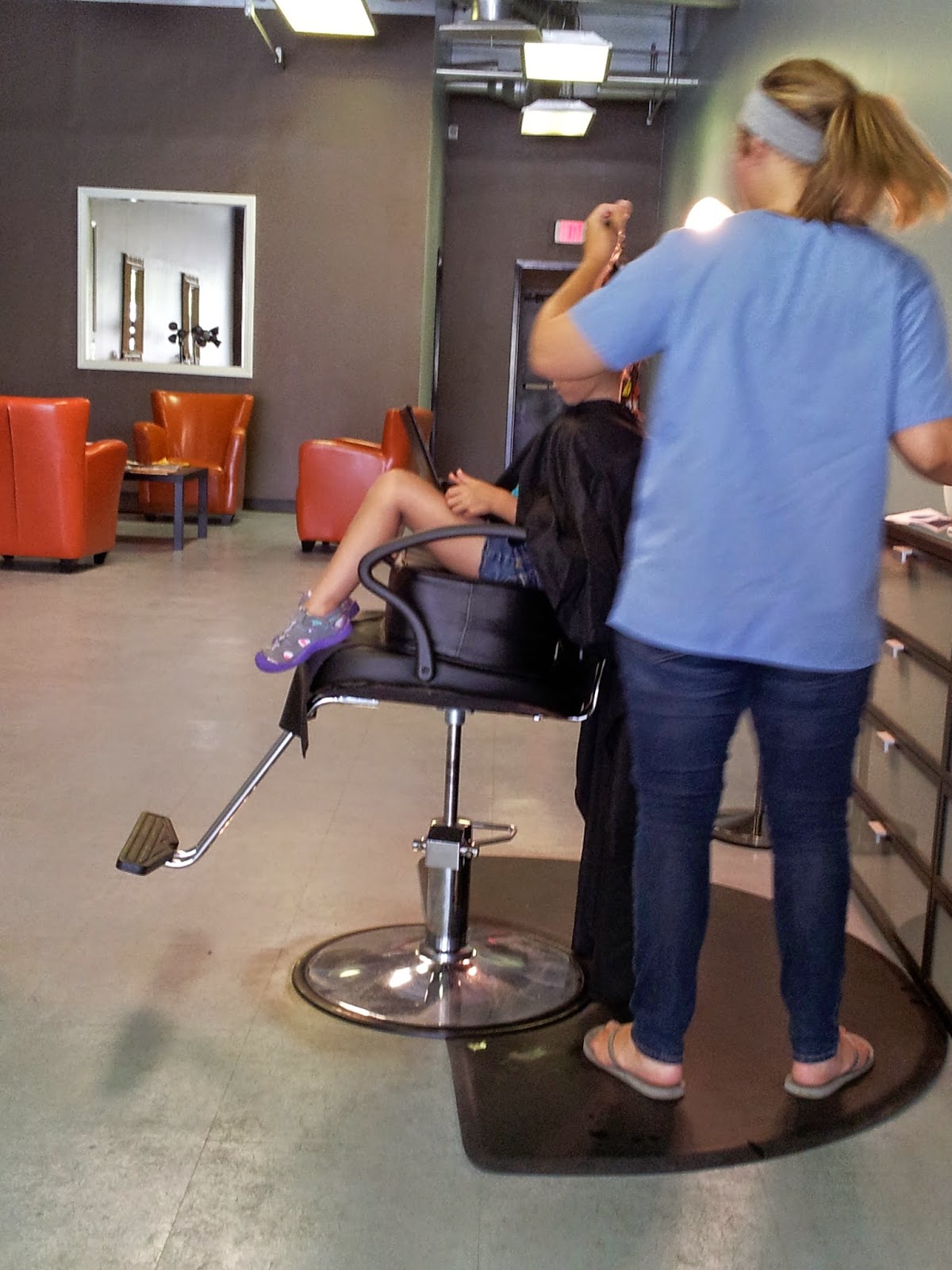 I begin to ask the girl looking through my hair a relentless string of panicked questions that are coming so fast I'm not even giving her time to answer. "Did you find anything? Do you see anything? Is there anything in there? Are there any on my head? What's going on up there?" 
I become aware that I am positively the most annoying client on the face of the planet.
Two hours and $167 dollars later my daughter is lice free and I have been assured that I myself do not have lice, I am actually just crazy.
We leave with instructions to wash all our bedding, vacuum the carpets and the couch, put any hair accessories in the freezer for 24 hours, and to check our hair every two days for a week.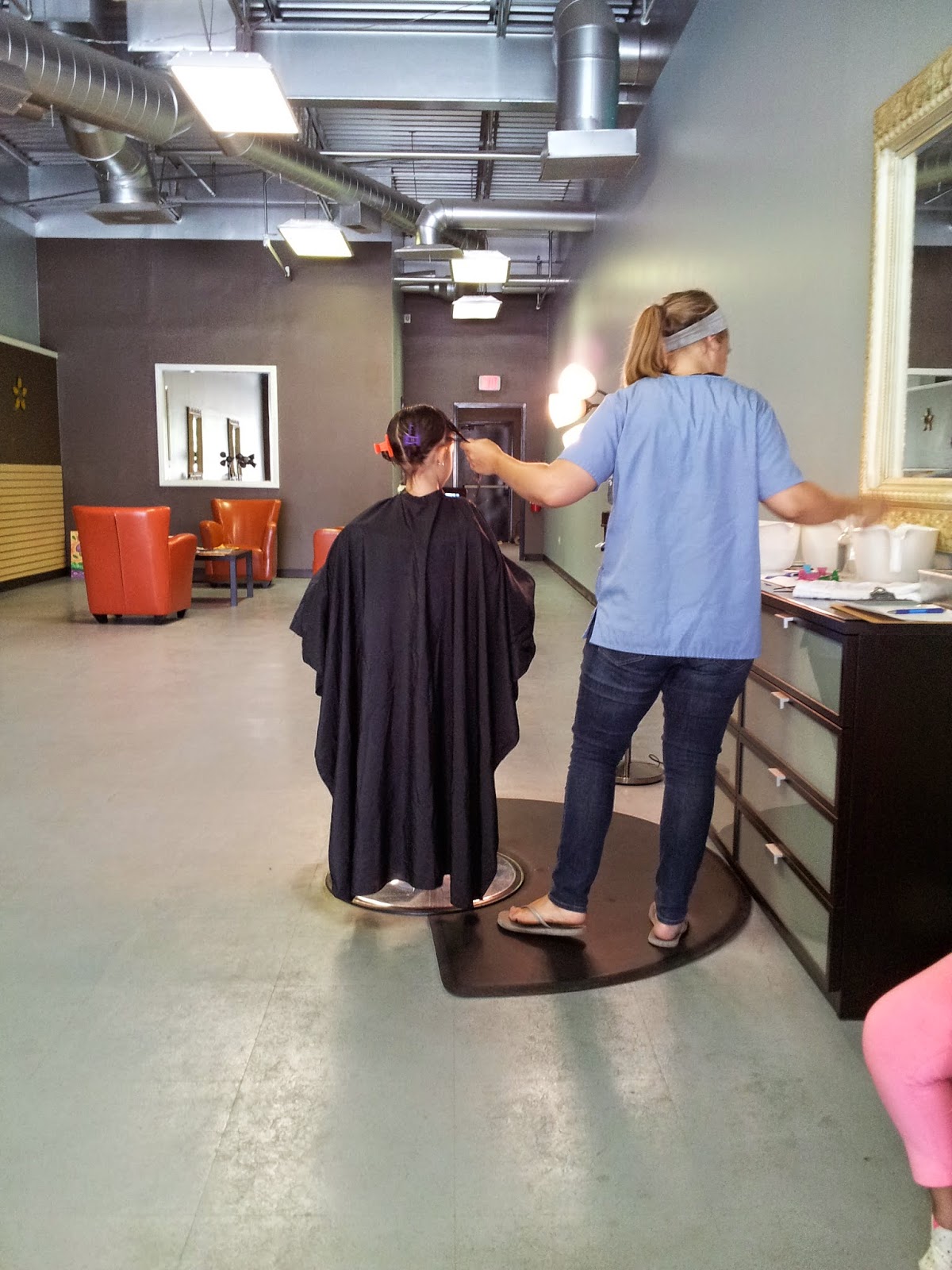 So what that actually looks like is that before we even leave the place, I wrap not only my daughter's car seat but my seat as well in plastic trash bags, pulling only the seat belts and safety buckles through. On the way home we stop and buy all new hair brushes. When we arrive home I seat her IN THE GARAGE with a few books and instruct her not to move while I clean the house (or at least until I had a designated lice free area to park her inside).
"Clean the house" as in I wash not only the bedding, but I start washing every single piece of clothing that is hanging in our closets. I vacuum not only the carpets and the couch, but the curtains and the inside of the vents as well. I bleach everything in the kitchen and bathrooms as well as wipe down everything and anything that I can possibly get my hands on. Anything that I can't wash such as the Girl Child's American Girl doll and the Boy Child's stuffed animals, I put into a trash bag where I intend to suffocate any remaining little bugs of Satan…I mean lice. Then I tackle the car.
When I am done I am fairly certain that my house would pass a hospital isolation unit inspection standard of cleanliness.
Forget checking our hair every two days, oh no, we are going to bang out the nit comb before breakfast and after dinner because I'll be damned if any of those little suckers are going to get a chance to breed on our heads again.
It is now ten days later and thankfully I have yet to come across any lone survivors of the hair farm annihilation. We had our follow up at the salon and I'm happy to say that we have been deemed a successful extermination case.
We caught lice, something that unfortunately a good majority of kids in the school and daycare systems catch. We fought it, we beat it, and I learned that I am an absolute hypochondriac.
But still….there were bugs living on my daughters head and drinking her blood….so can anyone really blame me?
Is anyone else feeling a little itchy?
No?
Just me?
Fun times.