How To Ignore People: Lessons From The Checkout Line
---
I went grocery shopping today.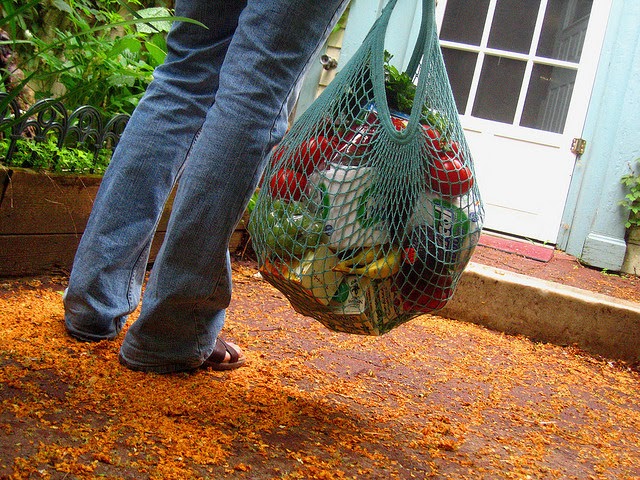 As I stood in line waiting to checkout, I looked over my items and I felt pretty confident in my purchases. I say "confident" because that's exactly the opposite of how I feel most of the time in the grocery store, but today, today I felt good.
I had two heads of lettuce, a cantaloupe, a bunch of bananas, 8 yogurts, two bags of cheese, 4 quarts of almond milk, two bags of pretzels, two packages of tortillas, 3 cans of beans, and a partridge in a pear tree.
Ok, I didn't have that last one, but I did have a pear. 4 of them actually.
So anyway, I looked over my cart and I felt good. I felt good because there was nothing in there that I felt would warrant people to judge me. If you have ever been on food stamps, you know what I'm talking about, I'm talking about what I refer to as a "splurge item." It's that box of cookies you buy so that your daughter doesn't feel left out in the cafeteria in school. It's the single serving of candy that your son earned from completing his chore chart. It's the ice cream you buy for yourself because your life sucks and sometimes you just want to forget about it and eat ice cream. Sometimes it's even the over priced gluten free bread that you buy because your family can't eat wheat. It's any of those things or the 900 million other items that people deem as unacceptable the second they see you pull out your food stamp card.
But today, today I had none of that.
The line was long. Really, really long because as usual the store had only five of it's 35 checkout lanes open.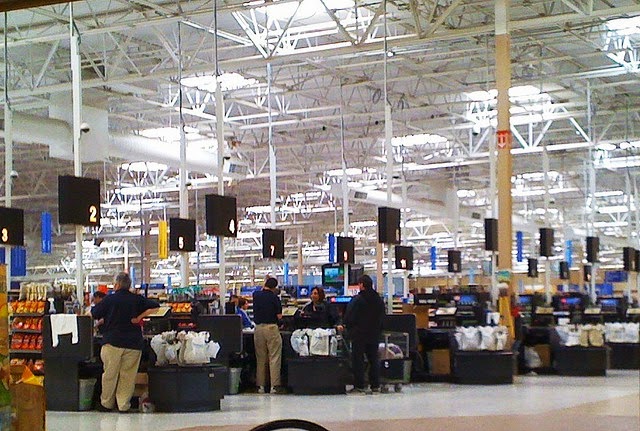 I waited, browsing the magazines on the rack next to me, reminding myself that a candy bar wasn't in the budget this week, and even though I was bored as hell I dared not pull out my phone.
I have a nice phone and poor people aren't allowed to have nice things.
Never mind that it's a phone with a camera that I need for work, people don't know that and they don't care. As soon as they see my food stamp card and remember seeing me use my phone, they judge me. Sometimes out loud and sometimes just with their eyes, but either way, it hurts.
So today, today I wasn't going to pull out my phone because today was going to be a good day, an easy day.
Finally it was my turn. I loaded all my groceries onto the belt, and made small talk with the cashier as she rang everything through and bagged it all up. When it came time to pay I pulled out my food stamp card, careful not to make eye contact with anyone around me, because despite that fact that for the most part I've made peace with my situation, the checkout lane is one of the places where I still feel defeated by shame.
But today was going to be easy.
And then my card got declined.
That didn't make any sense because I had checked the balance before I went into the store, and I knew that there should have been more than enough to pay my bill.
The cashier gave me the "I'm a little bit embarrassed for you" line of "ooooo, I'm so sorry, that card was declined. Do you have another one?"
No, no I don't.
"Uh…" I said. "Can I try it again? I'm not sure if it worked right because I know that there is money on it."
"Sure!" she exclaimed. "Go ahead and swipe it again."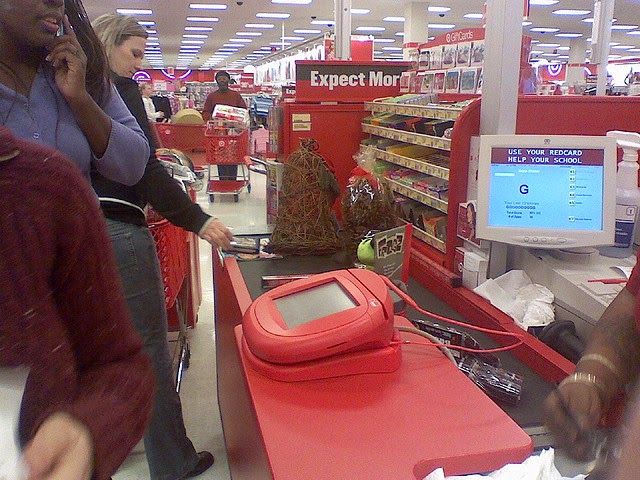 I did and this time a little message popped up on the screen that said "bank unavailable."
"That's strange" she said, "can I see your card?"
It was then that a voice came from the man standing in line behind me, a voice that said "just use another card. There are a lot of people in line and we don't have all day to wait for you."
My face turned beet red as my gaze dropped to the floor. I really didn't even know what to say because I didn't have another card.
I stood there for a minute while the cashier pushed a bunch of buttons on her cash register and then I said "hey you know what, I'll just come back later." I started to put items back into my cart, deciding that with or without groceries, anywhere was a better place to be than right there.
"No! Don't be silly" said the cashier in an overly chipper tone. "These registers can be so fickle, we'll get this straightened out."
And then the man spoke again.
"Actually, I think that's a great idea, her coming back later. Why don't you have her step aside so that actual paying customers can buy their groceries. Since everyone else in line including myself is paying for her food stamps out of our own paychecks, I don't think it's right that I also have to wait behind her in line while she reaps the benefits of it."

At that moment I wished the floor would have just opened up and swallowed me whole, although I probably just could have just fallen into one of the cracks that were already there and disappeared, because I only felt about 2cm tall.
The cashier looked stunned. As she picked up the phone to call a manager for help, she turned her back away from the man and whispered to me "just ignore him."

I tried, but as I waited for the manager to come and one by one people started leaving the line, all my insecurities washed over me like an all encompassing, engulfing, and suffocating wave.
The other checkout lines, they were long. I'm talking like at least a twenty minute wait in each one, but as each new person would walk up behind the man, looking as though they had just hit the jackpot in the short line lottery, the man would turn around and tell them "if I were you I wouldn't wait here. This lady doesn't have enough money to pay for her groceries. I'd leave too but I've been standing here so long that I could have made it through any of the other lines twice, so I might as well stay here until they make her leave."
Inevitably the new person would back their cart up and out of the lane, leaving the man and I standing there while I absorbed the full weight of the hatred and anger he was directing at me; emotions he was having no trouble transferring to me as he bore his eyes into my skull.
I tried to ignore him — ignore the entire world — but several times when I dared lift my eyes up from the floor, he would be standing there, staring me down. The cashier would eventually catch my gaze and each time she would again mouth "just ignore him."
Eventually the manager came, called the state hot line, and sure enough there was a problem with the state's computer system, not with my available balance. The manager was able to push the transaction through by phone and after what felt like an eternity later, she walked away and the cashier helped me load my groceries into the cart. When the last bag was settled in and I turned to leave, the cashier flipped off the "lane open" light on her register and walked away with me, leaving the man standing there all alone.
As I stopped to dig my keys out of my purse the cashier looked at me and said "see, now that's how you ignore people who aren't being very nice."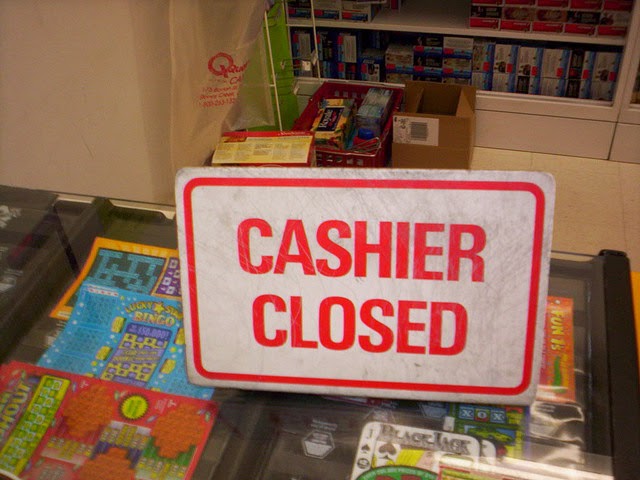 **************************************************************
If You Liked This, Check Out These!

"I Volunteered At The Food Pantry For Years, But Now We Eat There."
Photo Credits
Checkout Line
Credit Card Machine
Grocery Bag
Cashier Closed