Beware Of Frisbee's
---
Everyone has those stories from their past that they just love to share, don't they? So you have a story that stand out as particularly funny or dramatic, that come up time and time again? Well I do, so I thought that maybe you would like to hear one of my best party stories.
Freshman year of high school I met a guy who would become a very dear friend of mine. We never dated, we couldn't have been more opposite, but we just became great friends. His mom worked at the school, and I would assume that she was the reason our lockers always ended up next to each other and our lunch period was always at the same time. Throughout the four years that we spent together, I would eat breakfast at his house before school, borrow lunch money from him pretty much every single day, and do all the crazy stuff together that high schoolers do, such as trick or treating (was that just us?), and attending school functions. One of my most terrifying high school experiences came with he decided to show me how he could do donuts in the school parking lot with his truck. My head has never come so near to a light pole in my life. In fact, we were so oddly "coupled" up that one day his girlfriend approached him and said "my friends see you carrying Eden's books to class everyday and they think you are dating." He told her that her friends were stupid, she gave him the ultimatum to stop walking me to class or she would break up with him, and he broke up with her. We weren't anything, and yet, we were something.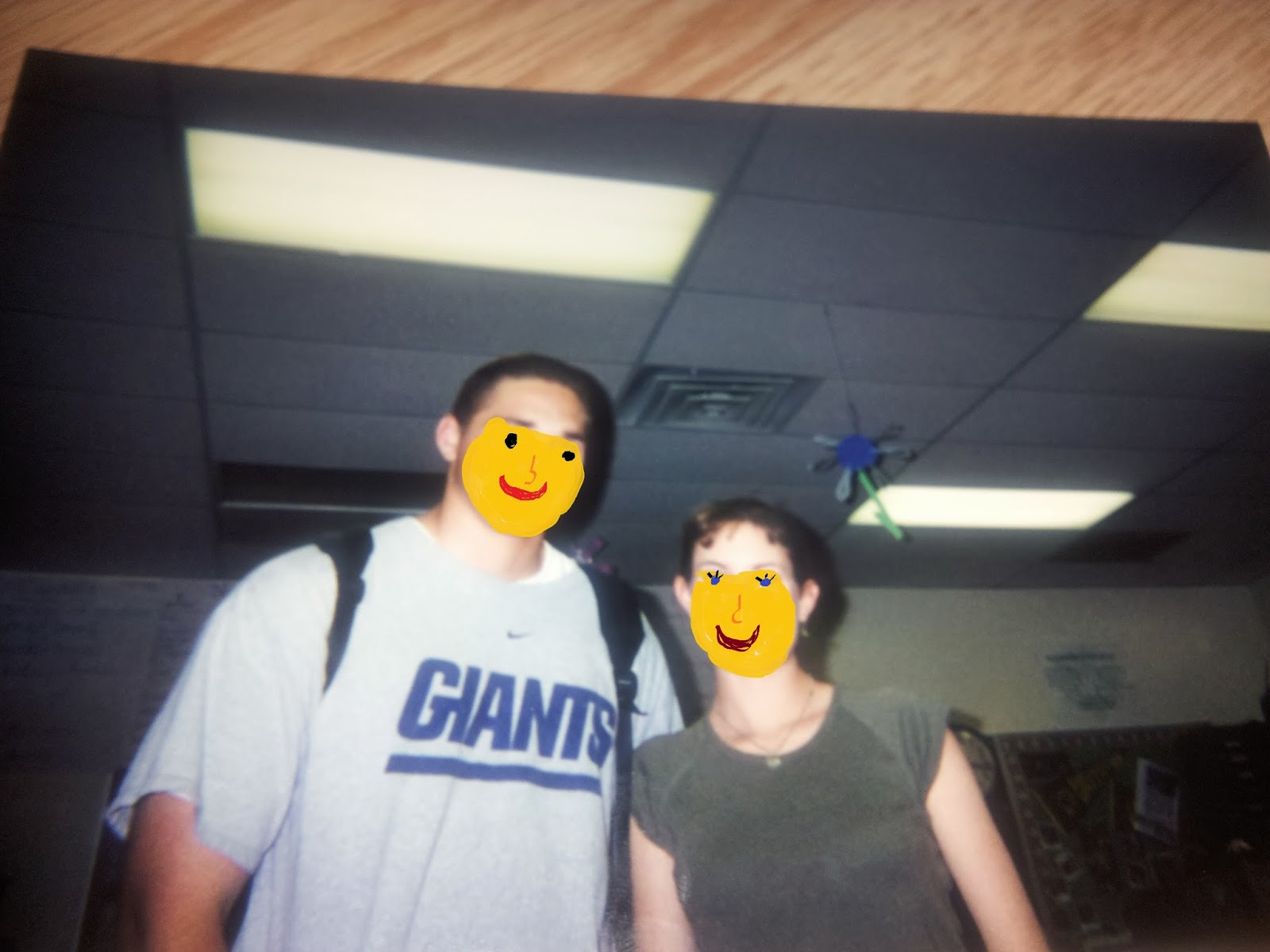 Sorry, bad quality, I had to take a picture of a picture.
But what that something was, what it transpired into, was a freaking awesome duo in gym class. He was a big dude, a foot taller than me, built solidly, and well trained on the football team. When we played floor hockey, we dominated. He would run my defense and I would run behind him, to which he would jump out of my way as soon as we got to the net, and I would score. We were so great that the teacher finally split us up because she said we were an unfair advantage. We played like this in sport after sport, dominating the field in hockey, soccer, basketball, and more.
But then we got to ultimate Frisbee. Does anyone know how heavy and hard a regulation Frisbee is? Let me tell you, I didn't, not until I got hit in the head with one anyways. The first day of Frisbee the teacher tells us that we are just going to be partnering up and tossing the Frisbee back and forth for practice. Big dude and I team up as usual, walk to opposite sides of the field, and then he throws the Frisbee at me like we are in the middle of one of his football games. I swear to you, I didn't even see the thing until I'm lying in the grass and its lying next to me. He came running over and he's all "Eden OHMYGOSHAREYOUOK!!!" and I'm all "……………………………………………………………………………………………………………………………………………………………………………………………………………………………………………………………………………………………………………………………………………………………………………………………………………………………………………………………………………………………..Uh…………………………………………………………………………………………………………………………………………………………………………………….what the hell just happened?"
"I hit you with the Frisbee!! I'm so sorry!!" he said. I was ok, but I walked around for the rest of the day with a long rectangular welt in the middle of my forehead.
The next day in gym class we partner up again and he promises me that he is going to throw the Frisbee to me like I am the 100 pounds that I am, and not one of his football buddies. He crosses to the other side of the field, the teacher calls my name, I turn around, and BAM!!! The Frisbee slams into the back of my head hard enough to drop me to my knees. Big dude comes running over and with one hand yanks me up so fast that I about pole vault over him. I'm not smiling, while he on the other hand, is trying not to laugh. The teacher says "that's it, you guys aren't partners anymore."
The next day he gets the chance to partner up with the girl he had a crush on, while I ironically get partnered up with a guy that I end up going to homecoming with. I'm not paying attention to the two of them because I am too busy flirting, until I hear "someone run and get the nurse!" I look over and big dude's crush is lying on the grass. Yep, you guessed it! He comes running over to me, "Eden, I hit her! I hit her with the Frisbee. I can't believe I did that!" and I'm all "wait, boy, hold up. You seem a lot more distraught over your cute little wanna-be-girlfriend lying in the grass over there THAN WHEN IT WAS YOUR BEST FRIEND, who you hit TWICE I might add, and laughed at!" He is all "Eden, FOCUS!! How do I fix this!" Well, for starters, how about you stop hitting girls in the head with regulation Frisbee's? Cuz, uh, that seems obvious enough.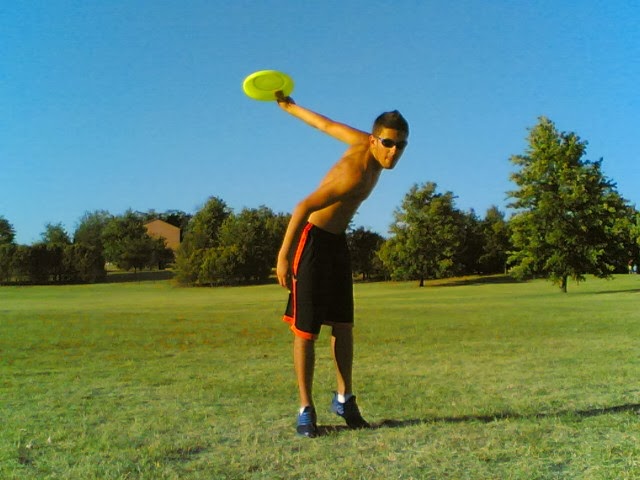 This is pretty much exactly how I envision him throwing a Frisbee
With all that chaos and drama, the next day the teacher told big dude that she was going to be his partner. I don't even know what to tell you guys, but somehow, big dude hit the teacher with the Frisbee. (You saw that coming, right?) That right there ended his Frisbee season, as he was benched for the rest of gym class Frisbee.
After that, the whole Frisbee thing became a running joke between us. "Or what, you will hit me with a Frisbee?" was tossed around by me, while "don't make me Frisbee you," was thrown around by him quite a bit. Big dude swore his Frisbee days were over and made a pact with me that he would never touch another Frisbee for as long as he lived.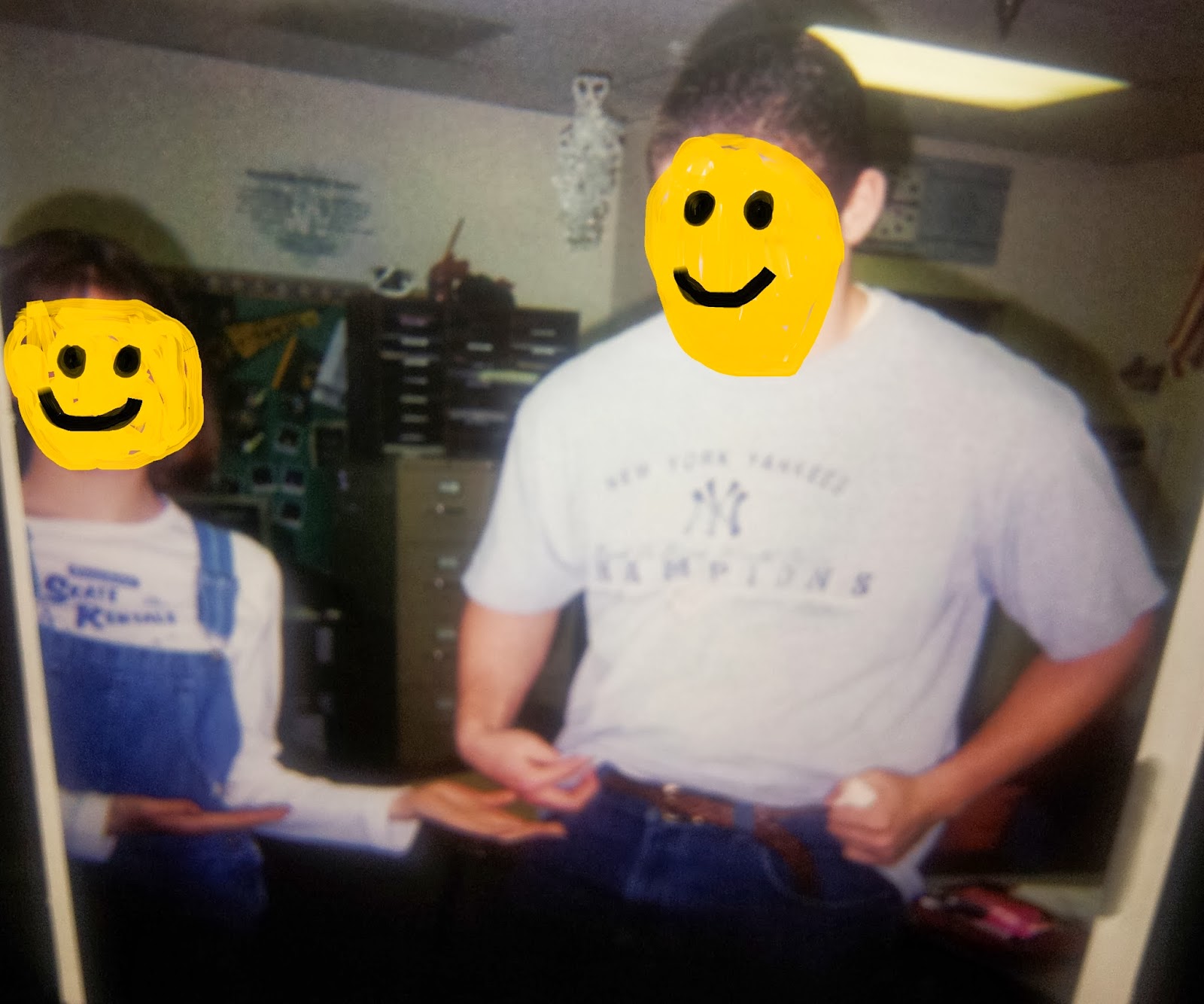 Apparently we were proud he was wearing a belt. I can't remember what this was about. I'm also thankful I don't remember wearing those tragic overalls.
At the end of our high school career, he went off to Valparaiso University in Indiana to play football. One day I got a phone call from my other best friend, whom we will call Ashley, who went to school in Oklahoma. Ashley's school was traveling to Indiana to play a football game against the Valpo team, and she was traveling with them to cheer.
"Hey, I'm going to Valpo," she told me. "That's where your hot big dude friend goes, isn't it? Text him and tell him I'm coming and maybe we can meet up after the game" she told me.
A few days later, I got a phone call from Ashley that started out with "Eden, I'm at the school clinic. I was at the game, I was sitting on a bleacher bench, and some big dude hit me in the head with a Frisbee! I have a huge welt on my head and I totally wanted to see your hot friend tonight! I seriously can't believe that this is happening, it hit me so hard I fell off the bleachers! What is wrong with the people at this school? Who does that?"
People, I could not make this up if I tried. I COULD NOT MAKE THIS UP IF I TRIED. As I am on the phone with her, I see that big dude is beeping in on the other line. I tell her to hold on, and I answer his call.
"Eden, I only have a second, I'm in the locker room, but you will never guess what happened!!!??" At this point I'm thinking, yea, I'm starting to have a pretty good idea. "I broke the pact! I don't know what I was thinking! I was running down the sidelines, someone threw a Frisbee onto the field, and without thinking I just picked it up and chucked it back into the stands. I looked up just in time to see it knock some totally hot chick backwards off the bench!"
No. Freaking. Way.
I am happy to report, that several years have gone by, big dude and I are still friends, he is happily married with a second baby on the way, and I have thoroughly warned his wife to never let him near a Frisbee again.
Photo Credit Guy Throwing Frisbee: https://www.flickr.com/photos/claudiocigna/