Oh F**k I Peed On The Floor
---
Both of my kids birthday's are going to be coming up in the next few weeks and it got me thinking about being pregnant with both of them. I have to tell you, pregnancy is a really weird thing. It's weird to me that it didn't feel more natural, but it just didn't. I wasn't one of those mom's who was like "Oooo, look at me, I am experiencing the miracle of life, what a wondrous and marvelous woman I am!"
No, for me it was more like "Oh my gosh, what the fuck is going on, please can we get this over with." Now I know that my take on pregnancy offends a lot of people, but seriously, I can't help the way I felt. It does not change the love that I have for my children, it does not mean that I didn't spend all nine months sleeping on the pregnancy required left side for better blood flow to the baby, it does not mean that I went against the American Academy of Pediatrics recommendations and binged out on lunch meat, it simply means that the act of actually growing a baby did not feel natural to me and I really did not find it all that enjoyable.
When I first suspected that I was pregnant with my daughter, I found myself literally trying to shove my husband out of the bathroom so that I could pee on the little pregnancy test stick in privacy. He was so controlling that he felt it was something that he needed to be a part of, something he demanded to be a part of. I actually ran out of the upstairs bathroom and beat him to the downstairs bathroom where I locked him out and peed on the stick while he was banging and swearing on the bathroom door, and attempting to break the door handle off. When it turned positive almost immediately I just stood there leaning over the sink with my head down before slidding down the bathroom wall, where I sat in a crumpled heap on the floor, feeling as though someone had just punched me in the chest.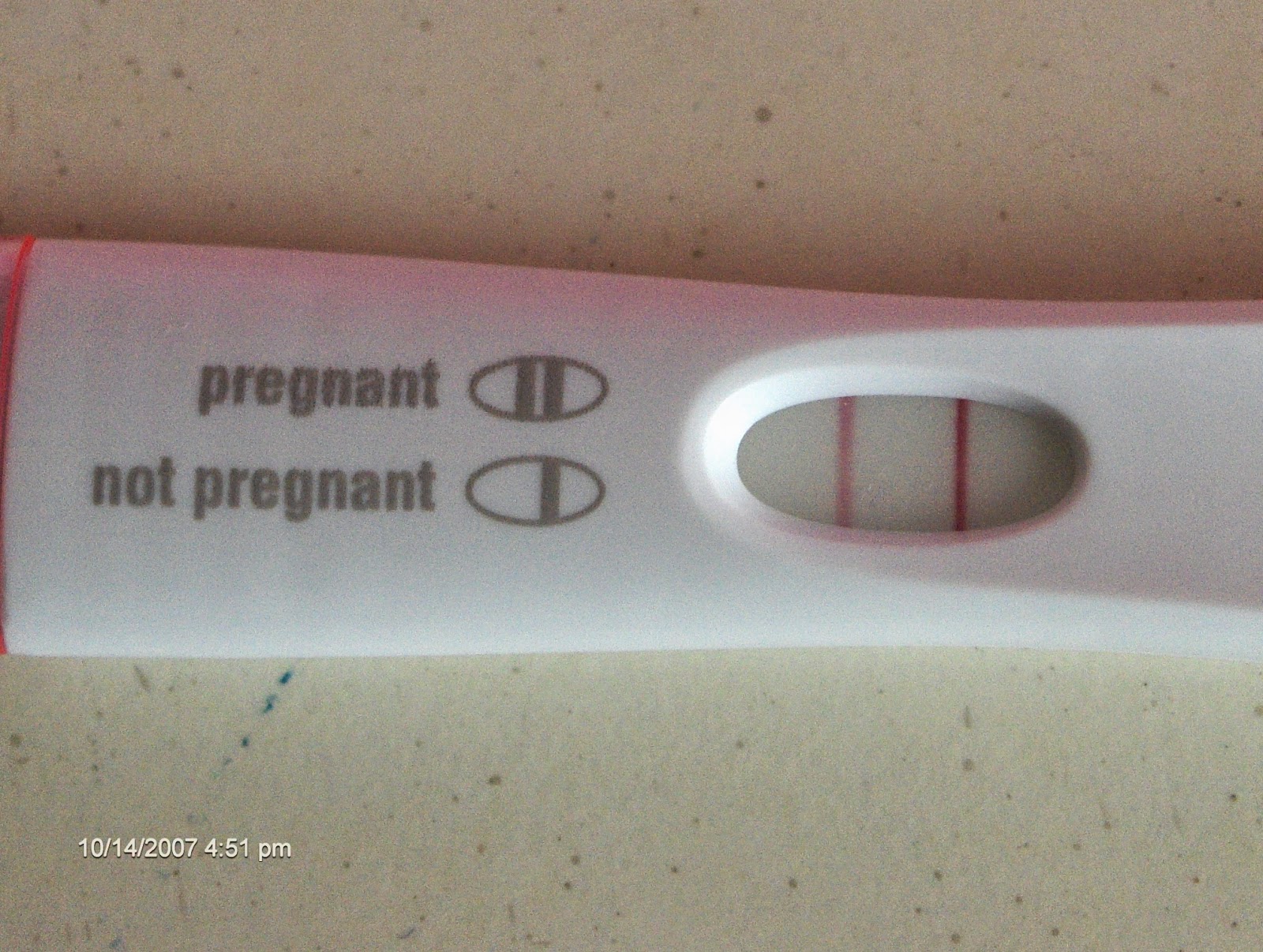 Never the less, this was my baby and I loved her instantaneously. Everything else though, I could have done without. The first time I felt her kick I nearly jumped out of a moving car. For those of you who have never been pregnant, I don't even know how to describe it. Yes, I am a woman, I make babies, but suddenly having one inside of you, it can be a little freaky. Then she started kicking and oh my gosh, woman or not I was not sure I was made for that. Just about the time I was finally getting over the strange fact that there was a person, INSIDE OF ME, that was kicking, did the kicks start to get harder. Ok, now not only was it weird, it actually hurt. Until you have had your lung kicked from the inside, you really haven't lived. As most women who have given birth to a child can tell you, by the end of the pregnancy you can tell exactly how the baby is positioned. You can tell whether it's a foot or an arm in your ribs. You can watch it move its head from side to side on the outside of your belly. Seriously, natural or not it freaked the hell out of me.
I had always heard the term "when your belly pops," describing the moment that you suddenly look pregnant, but I really had no idea that yes, you like actually pop. Like you go to bed with a flat tummy and you wake up visibly pregnant. Again, this was extremely unnatural to me. I would stand in the mirror every day, look at my swollen tummy, and think "oh. My. Gosh. Ohmygosh. OH MY GOSH." The fact that you just keep growing and expanding and there is absolutely nothing you can do about it, it's weird. Again, I feel like I should have been all "Oh, look at me, I'm growing a life and I am so beautiful doing it" but to be honest, I didn't feel like that. I felt huge. I felt uncomfortable. I felt totally out of control. I loved my little baby, I was so excited to meet her, but the physical changes were a little horrifying to me.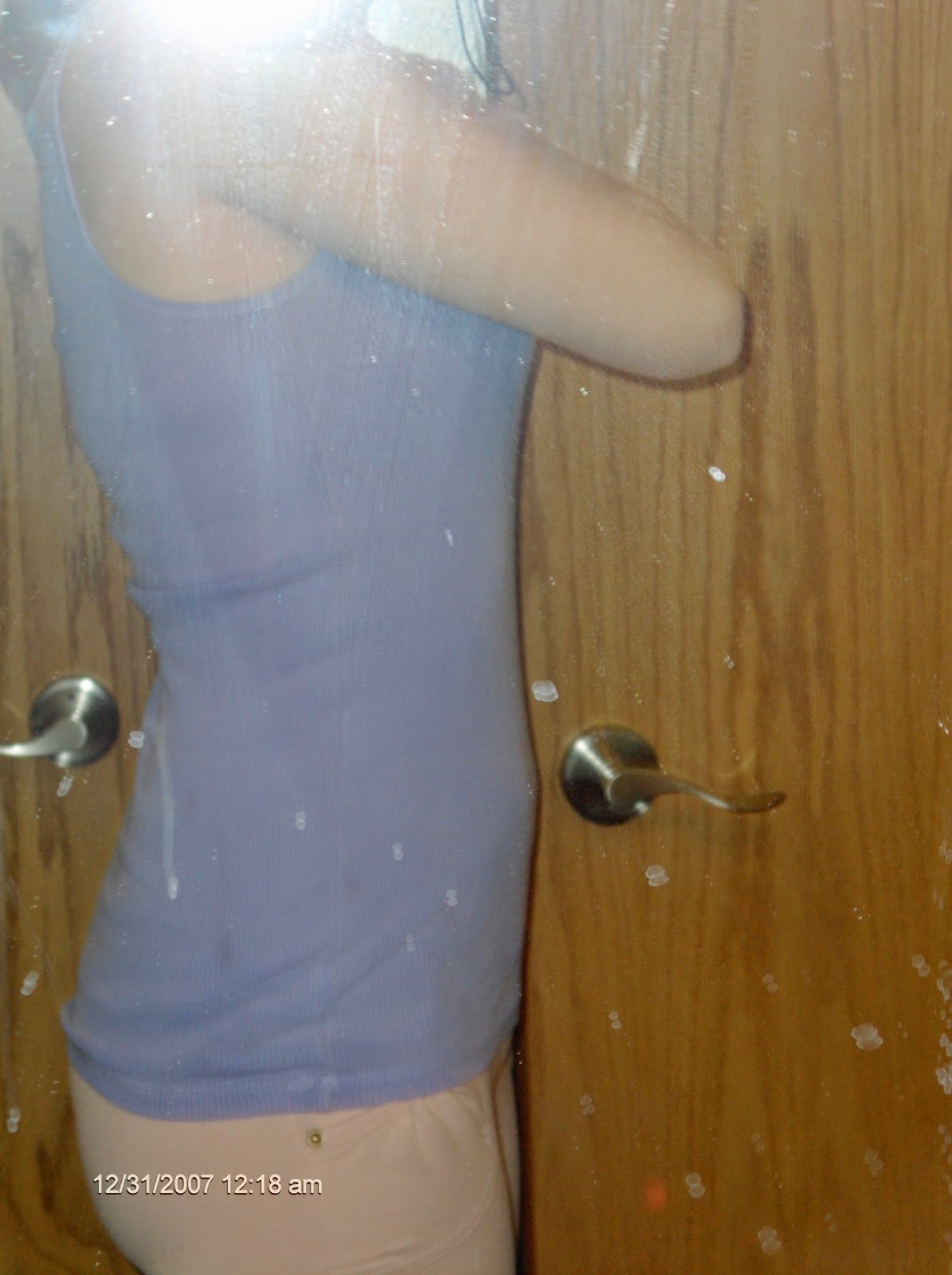 Four Months Pregnant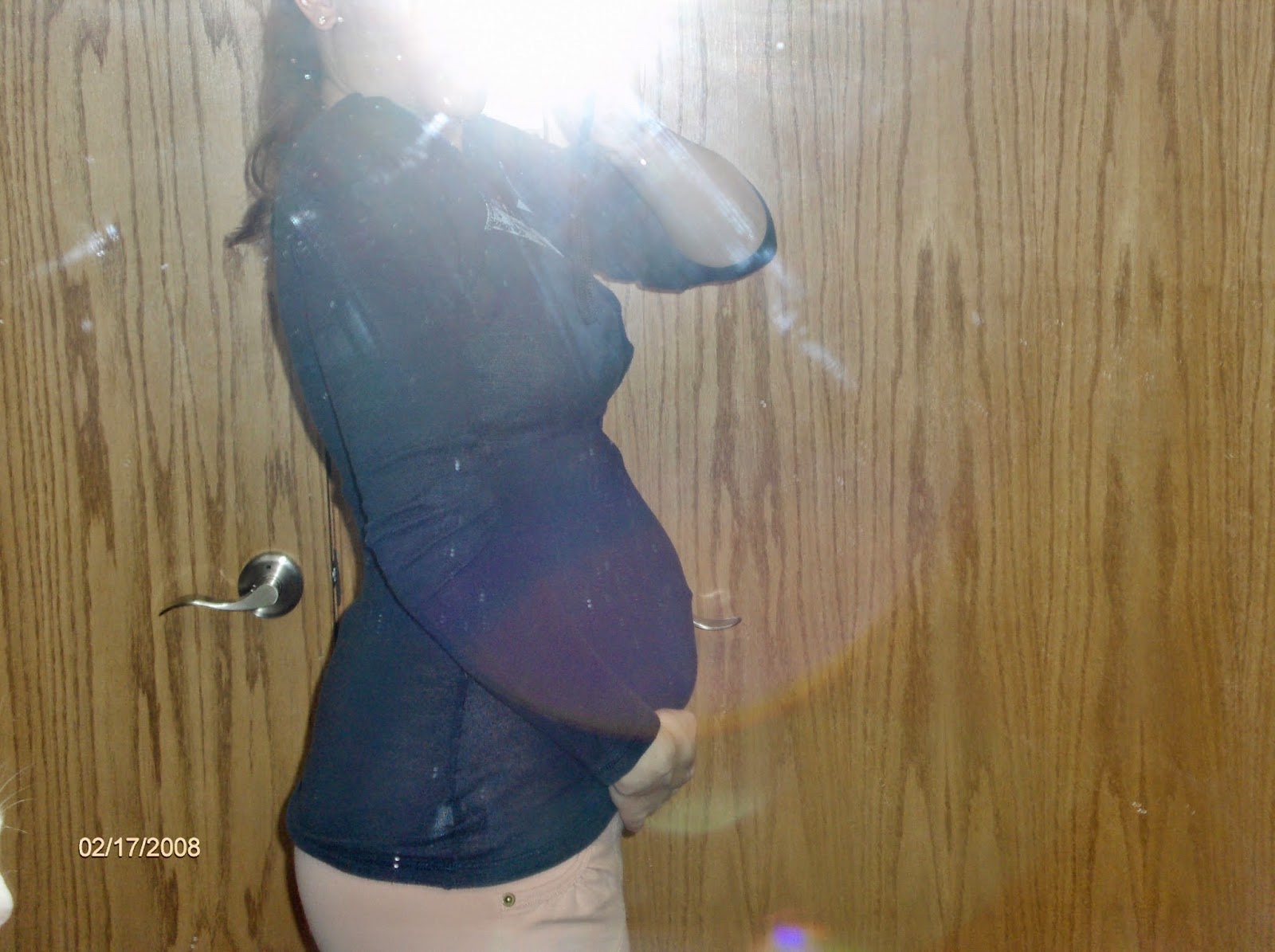 Then boom, six weeks later, hello baby.
I knew instantly that she was a girl. I'm not sure how I knew, I just KNEW. I was so convinced that she was a girl that it never even crossed my mind that she might be a boy. The morning of my gender reveal ultrasound, my husband had worked all night and met me at the hospital. He was clean shaven, wearing new clothes, and for once in maybe his entire existence, looked well put together.
"Uh…whose clothes are those and why are you so clean" I asked him. "I stopped at Target. I bought new clothes, showered in the sink, and shaved" he replied.
"Oh, ok, so you basically got dressed like a homeless person and then came over here" I said to him.
"I need to look good for the moment that I hear my daughter is coming into this world" was his reply. I will never forget that moment because it was one of the few times in my life that I actually felt like he cared about someone other than himself.
The ultrasound tech asked if we knew what the baby was and I told him it was a girl. He asked me how I knew and I told him that I just knew. He asked me what I would do if I found out it was a boy and I told him that wasn't going to be happening. He apologized to my belly, telling it that "I'm sure your mommy will still love you even if you are a boy," before scanning me and confirming that the life inside of me was indeed, a girl.
When I was 7 months pregnant my husband pushed me down a flight of stairs and I went into labor the next afternoon. I drove myself to the hospital, my mother met me there (having no idea of what had caused the pre labor), and when I saw the concerned look on the doctor's face I knew something was wrong. Not only was I in labor, but the baby was small. Too small. Much smaller than she should have been. So small that at seven months she might not do very well if she was born then.
Suddenly I wanted all the uncomfortable pregnancy experiences. The kicks, the big belly, I wanted it all and I wanted it for at least two more months. I thought of the pile of lettersthat I had been writing to her, one every week since the day I found out I was pregnant, and I wondered if she would ever read them. I wondered if she would ever know the love that I had for her outside of my own body.
Thankfully the labor was stopped but I was put on strict bed rest. My parents insisted that I move in with them and while it was the last thing I wanted to do, I did it for my daughter. I knew my husband wouldn't take care of me the way that I needed him too and with the life of their granddaughter at risk, I knew that my parents would. I moved in with my parents and even though my husband was asked to come as well, he chose not to.
Eleven weeks later I went in for an induction, but when I got there, to my surprise I was told that I was already in labor (I swear it was the nervous drive there!). So they hooked me up to all the monitors, told me to get some rest, and we would see if things progressed. My husband promptly fell asleep on the in-room couch a mere two minutes after the nurse left. Here I am, terrified that a human being is about to come out of my very tiny vagina, and my husband is sleeping. Oh, and I just realized that I have to pee. I look around and I can't reach anything that I need to be able to get out of bed. I can't unplug the monitors, I can't reach the IV pole, and of course I can't reach the nurse call button. Naturally I do the only thing I can think of and I try to wake up my loser of a husband.
No go. After near yelling at him for a good ten minutes, I start throwing things at him. My pillow, ice cubes, the hospital dinner menu, whatever I can reach. Finally I give up and start yanking things off of my body. I stand up right as my husband sits up and fuck…. I pee on the floor. No…wait…pee doesn't look like that.
Ok, my water just broke.
It's go time. The nurse comes in to check me and I am still only one centimeter dilated. One whole freaking centimeter, well that's just great.
I guess it's not go time after all.
Except that after I'm situated back into bed, I feel something.
Something that feels like a head. Something that feels like a head coming out of my body, like right now.
Like right freaking now.
Now I'm freaking out. Forget that this is a natural process, forget breathing and being calm, forget all of that because I am absolutely freaking out. I am freaking out to the point that my husband actually senses my urgency and jumps into action. He runs to get the nurse who comes into the room and assures me that "honey, I just checked you not four minutes ago and you were only one centimeter, you are just feeling the baby move down."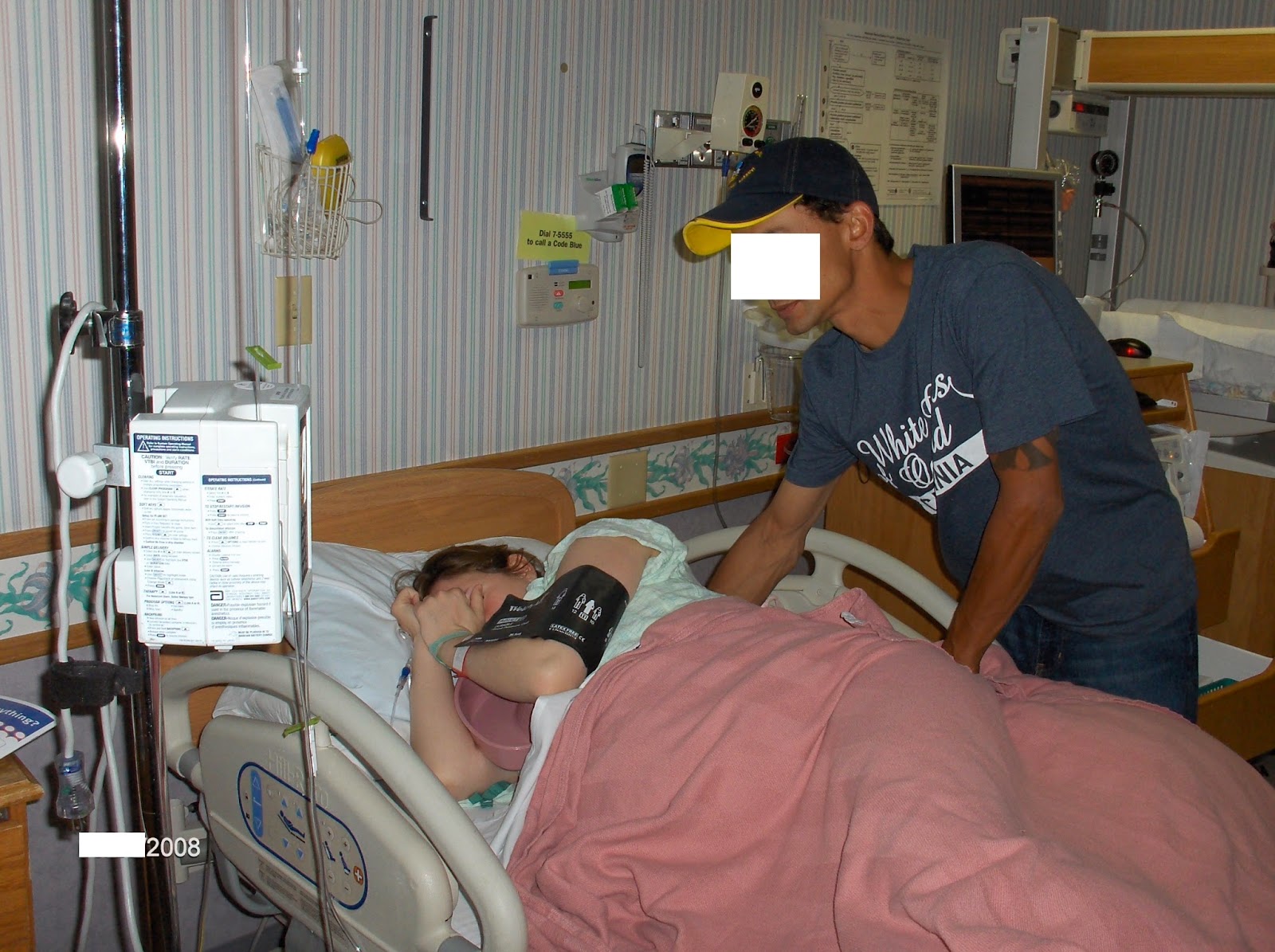 I would like to point out that I am laying on and in pillows, with one on my belly. That is not all me!
No lady, I'm feeling the baby COME OUT. Can we please get it together?!
The nurse is not happy, but after I tell her in my best exorcist style voice that the baby is COMING OUT, she agrees to check me again just to shut me up. The nurse looks under the sheet, her eyes get huge, she pushes some button by the bed, and she says "I need everyone in here stat, patient xxx is crowning." 
See, I freaking told you I felt a head coming out of my vagina! I know I've never done this before, but I'm pretty sure I can recognize when there is a HEAD COMING OUT OF MY VAGINA.
I wish I could say that I handled the situation like a champ, but I can't. I handled it like an absolute lunatic. All the preconceived idea's of how I was going to be a blissful, calm, in control birthing goddess, like the women I had seen during the hundreds of episodes of "a baby story" I had watched while on bed rest, went right out the window. Right then my mother walks in and I am alternating between screaming, crying, and yelling for help.
Forget my birth plan, which consisted entirely of "get an epidural," now I will settle for just getting a freaking doctor. The nurse gets on her little nurse cell phone, doesn't move away from me at all, but turns around as if I won't be able to hear her if I can't see her face, and says "Doctor, it's nurse xxx. Patient xxx is crowning, you will never make it but don't worry I've delivered before."
Are you freaking kidding me? In my complete lunatic state I actually yelled at the nurse "I want a doctor! This is a hospital! It's full of doctors! If I didn't want a doctor, I WOULD HAVE HAD A HOME BIRTH!!!"
As I am screaming like the lunatic that I absolutely am, another nurse just keeps telling me "don't push. Whatever you do, do not push." Now if you have ever had a baby before, you know that that is nearly impossible, you're body is just doing whatever the hell it pleases at this point. With each contraction she would apply pressure to the baby's head. My body is pushing this baby out and this nurse is pushing her back in! I'm having visions of my baby's neck being broken and I'm screaming at the nurse to get the hell off of me.
Aren't I a fun patient…?
One nurse asks me if I want a mirror so that I can see the baby come out and I'm like "are you kidding me? I don't want to see that! Can you just put a c-section curtain up and tell me when it's over?" Forget the mirror, I want my fucking epidural. You know what, just knock me out completely and wake me when its over. The nurses are telling me it's too late as they continue to call for more assistance. My husband is sitting in the corner of the room, half cracked out of his mind, and my mother is holding one of my legs up. Holding one of my legs up where the nurses positioned her, until she leans on it and DISLOCATES MY HIP. Thank you connective tissue disorder, I am having a baby and my mother dislocates my hip. Now, not only are the nurses scrambling to find me an obstetrician, but they are also calling for an orthopedic doctor. Lucky freaking me.
Right then my doctor literally runs into the room and directly into a paper gown that another nurse was holding up like a bull fighter taunting a bull with his cape. The doctor reaches down, my body pushes, and out comes my baby. 19 minutes after being told I was one centimeter, and about twenty seconds after the doctor entered the room, my daughter was born. The very first words that I uttered after her birth were to the doctor and they were "I'm not paying you for that."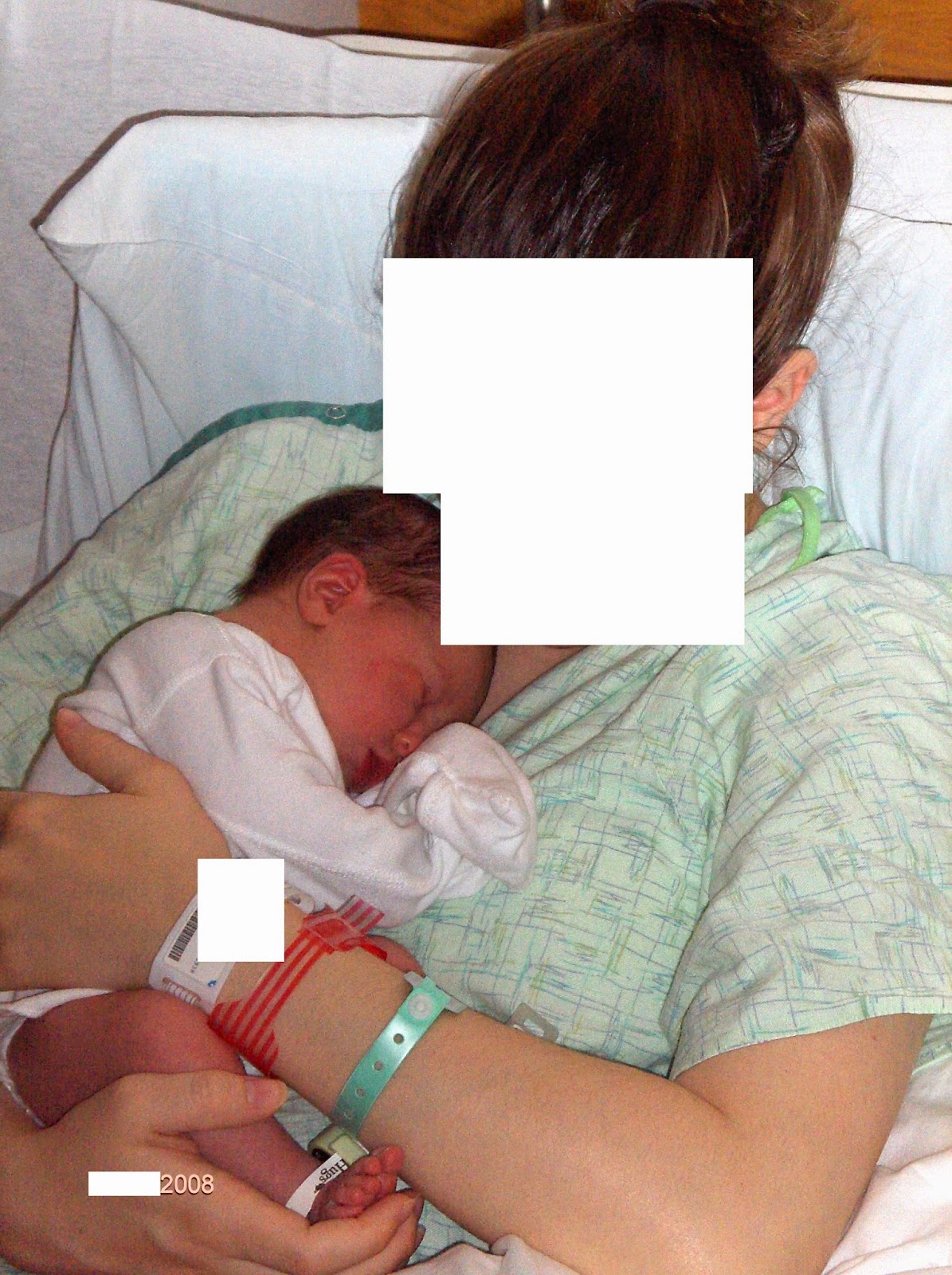 Leave it to my daughter to come bursting into this world in a way that takes after her mother. "Hello room, hello world, here I come whether you are ready or not!"
In the next few weeks she will turn six and she is the light of my life. She has such a tender heart and is way too smart for her own good. She was diagnosed shortly after birth with the same genetic connective tissue disorder that I have, but she is doing wonderfully. Initially she had a really rough start, but the last few years have left me and her doctors feeling fairly optimistic that it will only affect her mildly as it does me. She loves to sing and dance and her little brother has her wrapped around his tiny little fingers. She was speaking in full on sentences by 12 months old and now at the age of six, she can hold her own in any debate. I am going to need a law degree just to be able to argue with her by the time she is in high school, but I have a good feeling that this kid is going to set out to change the world.
Single motherhood was not what I had in mind. Also, to be frank, I'm not sure motherhood at all was what I had in mind, but this girl child of mine, she has changed me. As she grows, I grow with her. She has opened my heart in ways that I didn't even know were possible, allowed me to feel in ways I didn't even know I could.
To this day I don't think pregnancy is for me, but motherhood, I was destined for. All the kicks and the lung punching, the outrageously expanding belly, I would do it a hundred times over just to grow the amazing little person that I have.
Happy sixth birthday my darling daughter. I don't have much to offer you except for love, but I love you so much that I will spend the rest of my life offering you all that I have.