Just Show Up
---
**Forgive me for the quality of some of these photo's, I took a lot of them on a disposable camera and since I don't have a scanner, I literally took a picture of a picture and posted them here.**
When I was 15 (16?) my parents sent me on a work camp trip over the summer.
Take a minute to envision how that conversation went. Here, I'll even give you a little hint, it went almost exactly like this; "Eden, we are sending you on a work camp mission trip for the summer. Oh and by the way it costs $3000 and you have to pay for it yourself. This is non negotiable."
I was NOT happy.
Yes, life at home was awful, but this entire little plan of theirs seemed insurmountable. I hadn't been on a plane since I was three, I didn't have any construction skills, and now my parents were going to drop me off at the airport where I was going to fly across the country to live with people I didn't know and literally do hard labor for the summer. Oh yea and I had to find a way to pay for it myself.
Not daunting at all. Not a bit…..
Not only did I spend months participating in more fundraisers than I care to remember, but I had to attend "work training" classes at my church. I would literally show up with a piece of drywall, throw a hammer through it, and learn to mud and tape it back up. After learning to safely climb from a ladder to a roof when June rolled around I had scraped enough money together to begrudgingly hop on an airplane and jet set off to labor camp.
It was a life changing event that probably saved my life.
I left for the trip as an angry girl, who while surviving, was doing nothing more than just that; surviving. I left as nothing more than a girl just surviving and I came home living a life with a purpose.
My daughter is named after my first trip so I won't tell you where it was, but as I said, I will tell you that it changed my life.
I remember sitting there on the airplane, watching the clouds go by underneath my feet, and feeling like a fraud.
"I'm flying all this way where I will arrive to meet a family that needs my help, a family that is expecting me to fix things for them, and I can't even help myself. My own parents know that I am worth nothing, why would someone trust me enough to help someone else? I have nothing to offer, I have nothing to give, and I fail at everything. I don't want to fail these people but I don't know how to be a success, because I am worthless."
When we landed I met up with the crew that I was to be working with. We piled into a van where we were driven through streets that contained shack like houses and were then dropped off at our mission site with a massive amount of building materials.
There was no easing into it, oh no, it was all speeds ahead on this trip.
Our crew was an odd bunch, our hometowns scattered across the country. None of us had anything in common whatsoever and yet, we quickly learned that we had everything in common.
Every single one of us walked into the house we were to be working at, took a look around, and walked right back out. We all stood outside for a minute saying nothing; the silence in the air was so loud it was deafening.
I didn't know what to say but I sure as hell was hoping that someone else would.
Finally someone spoke; "there is no floor."
Yep, that about summed it up.
We had walked up the stairs of the front porch and then hopped down an 18 drop onto the dirt below; the dirt inside the house. The floor had fallen clean off of the house and the only thing that remained was the cinder block foundation with large gaps to the outside, a couple of wood rotted support beams running across, and a partial floor in the kitchen were the cabinets were.
I was not prepared for that.
We stood there for about ten minutes or so before someone spoke again.
"Literally, there is no floor."
Yep, that's what we noticed. Thank you captain obvious.
I stood there, feeling so self conscious that I was pretty sure the rest of the group was glaring at me and thinking "there is no floor in there and you have dropped us off with this teenage Eden girl who looks like she only knows how to patch drywall and climb onto roofs and we have an entire weight bearing structure to build."
I stared at the ground so hard I might have actually driven it a few inches further down.
Finally someone started talking, but it was unfortunately nothing that made any of us feel any better.
"Uh…I don't know how to fix this."
Yep, me either buddy, me either.
It was just then that the homeowners walked up to us, thanking us with everything they had in them. The joy that was in their eyes was not only unmistakable, it was heart breaking.
It was heartbreaking because we were there to give them hope and yet not a single damn one of us knew how to go about doing that.
Now remember, this was before the days of smart phones. We couldn't exactly just pull up a home improvement website on our phone and get to work. Hell we couldn't even drive to a hardware store and ask for help because #1, we were dropped off, and #2, we were in one of the poorest regions in the country.
As far as I was concerned, we were screwed.
I'm not sure how long we stood there to be honest. At some point we moved to the backyard where we perched on coolers, wiped sweat off our foreheads, and said not much more than a few disparaging phrases.
Eventually the words "well, we can do nothing and get nothing done, or we can do something and hope for the best" were said.
We looked at each other, figured we had nothing to lose, grabbed a pencil, and got to work drawing up a plan on the back of some plywood.
Two days you guys, it took us two days before we were able to figure out how we might go about this little project. We weren't even sure if it was feasible, we weren't sure if it was doable, but the only thing we knew was that is was attemptable and sometimes that is all you've got.
Luckily for us, it wasn't just attemptable, it was completable.
A week later we found ourselves laying peel and stick vinyl flooring tiles on top of our new sub floor. Never in my life have I seen such smiles on faces and I am not even referring to the homeowners.
I looked around and I just knew that everyone had changed. We had walked into that project feeling like we had nothing to offer and as we worked, as we cheered each other on, we grew. We found ourselves that week, all of us. We learned that when we felt like we had nothing to offer, that we just weren't working hard enough to offer what we could. We learned to look past the obvious shortfalls in people and to focus only on their benefits; because the only loss in a person is the good you don't recognize. 
I learned to see the best in people that week and most importantly, I learned to see the best in myself.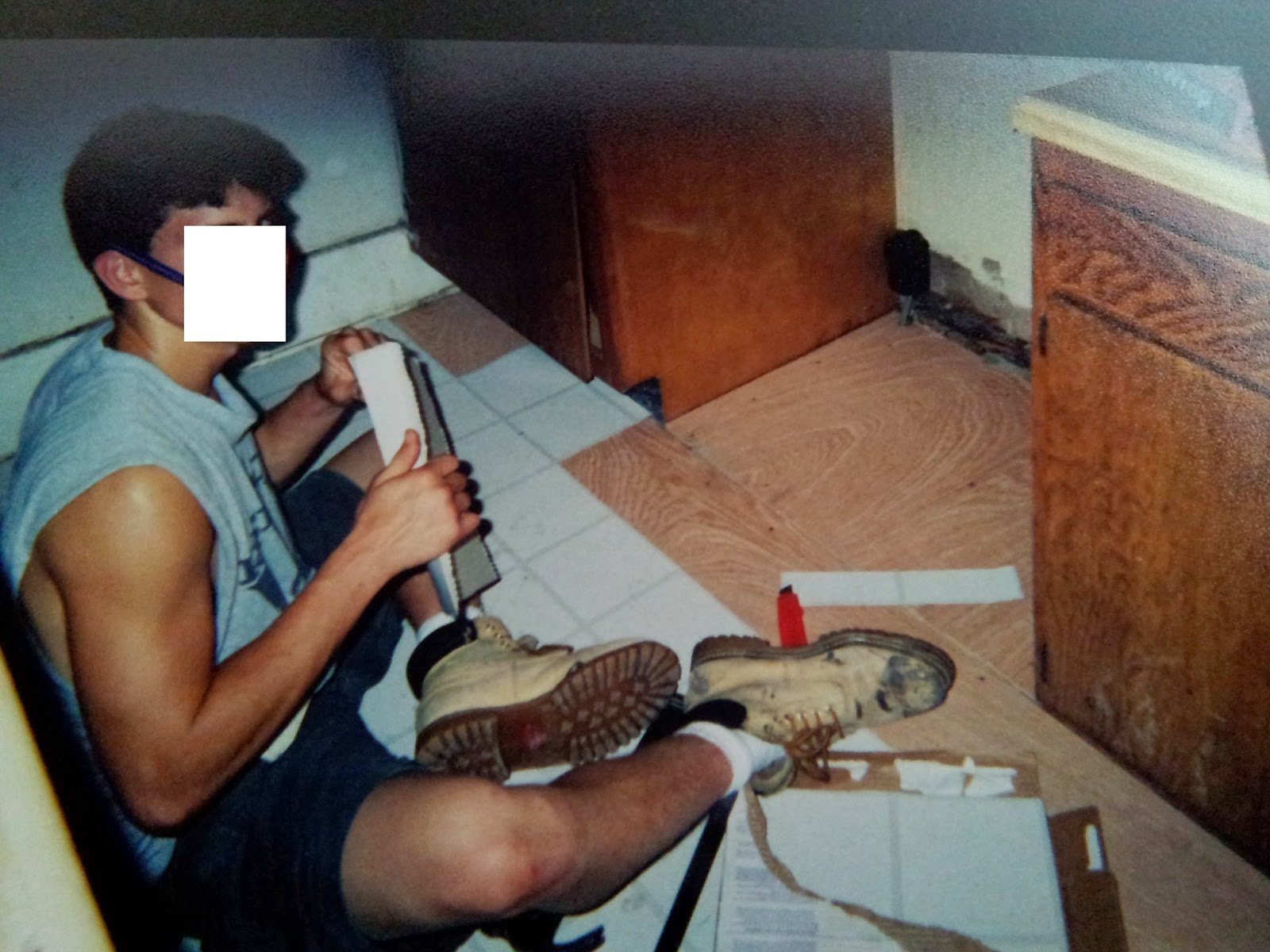 Our new floor, complete with a man that watched me get married so many years later.
As I said, that trip changed me. For the first time in my entire life I felt needed. I felt accomplished. I felt worthy. So far from home, in such a harsh environment, so totally and completely out of my element, I felt nothing but peace.
That trip spurred a series of trips that spanned nearly a decade of my life.
I put a roof on a house in the mountains of Appalachia for an elderly couple caring for their three year old grand daughter. The family was so poor that we gave them our lunch everyday and when we left, we left them everything we had; suitcases and all.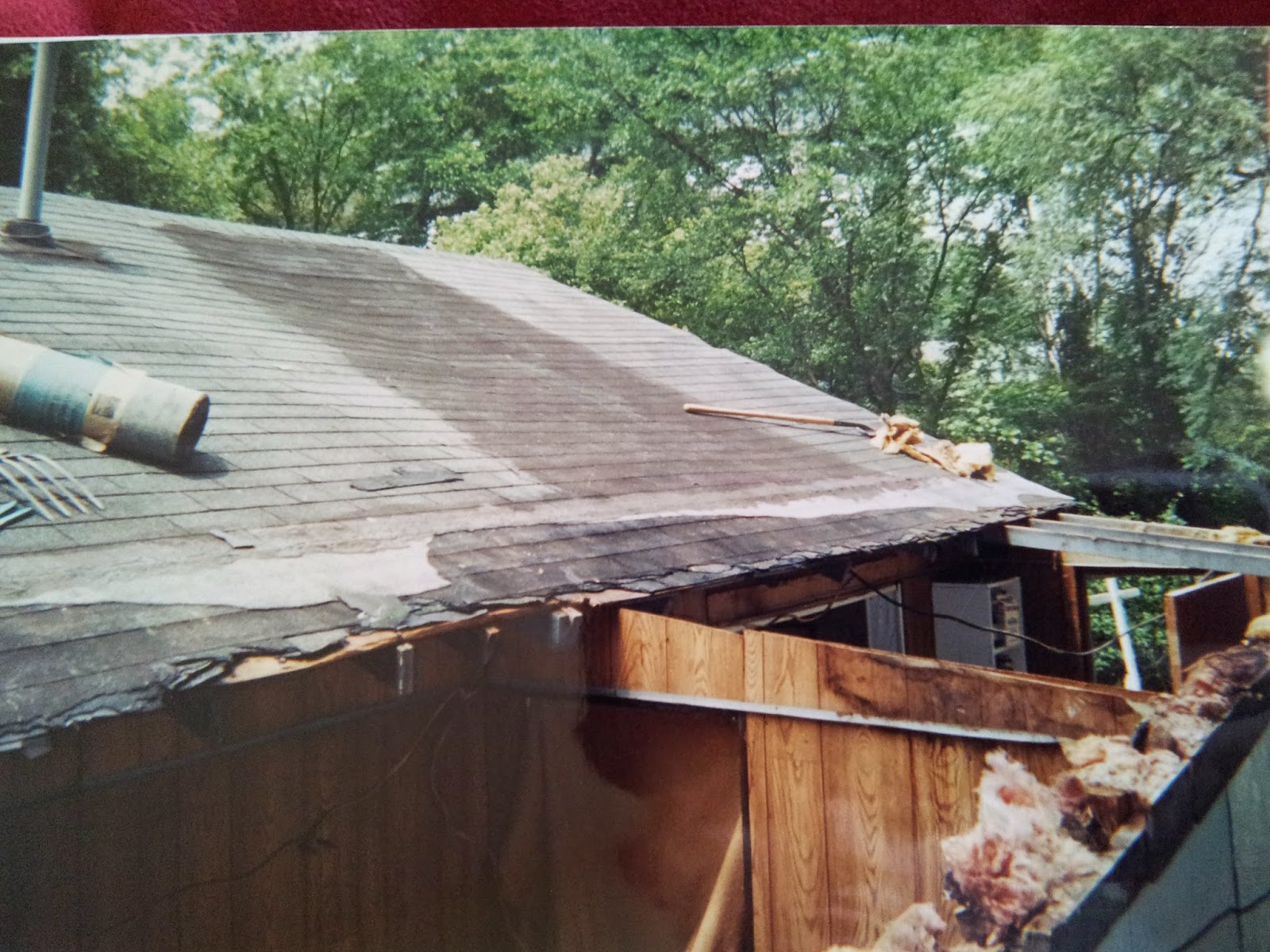 Some places had no roof at all, in other parts, particularly the dark rectangular patch, it was nothing but mold, moisture, and about to cave in. (Before)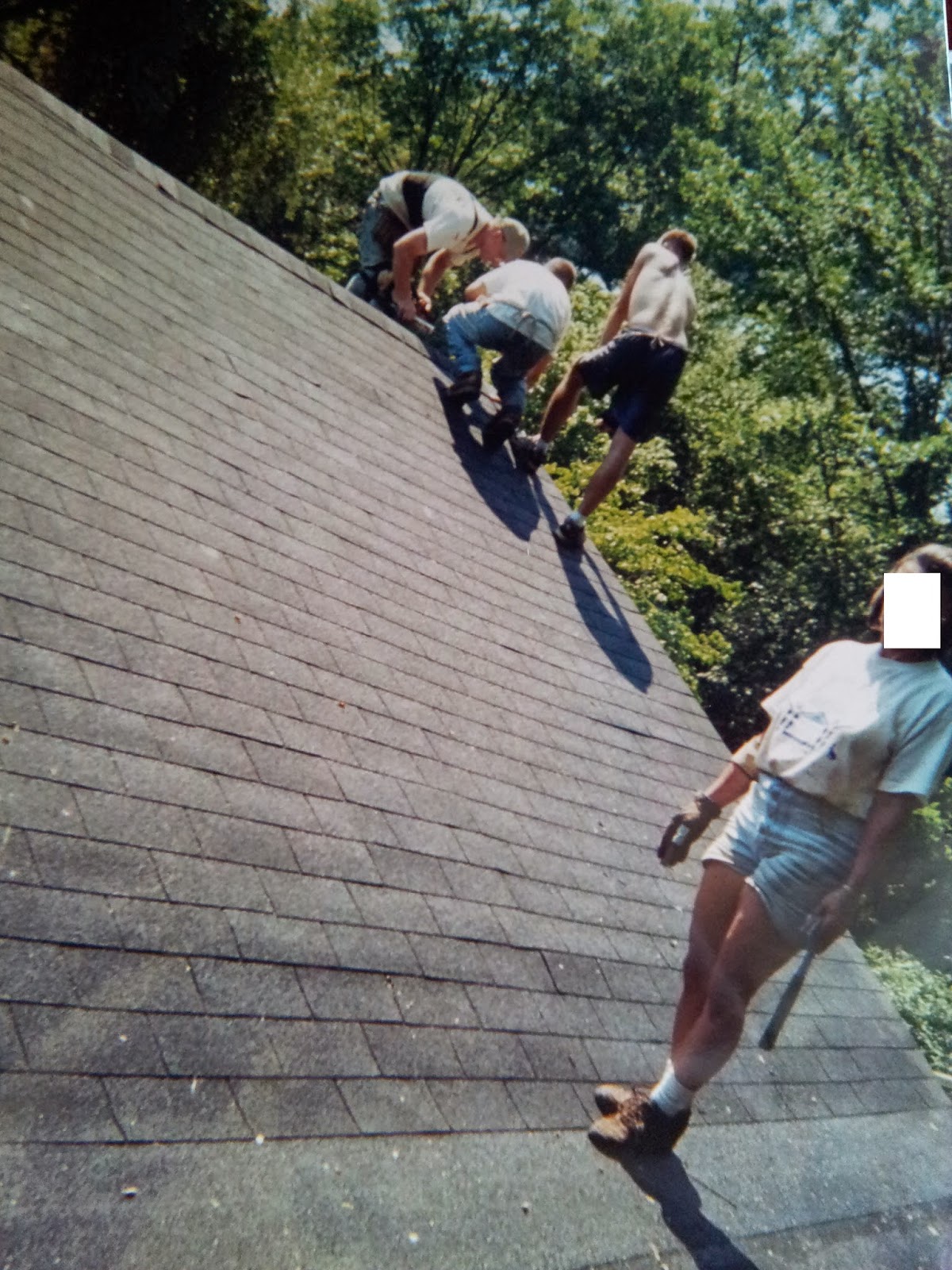 After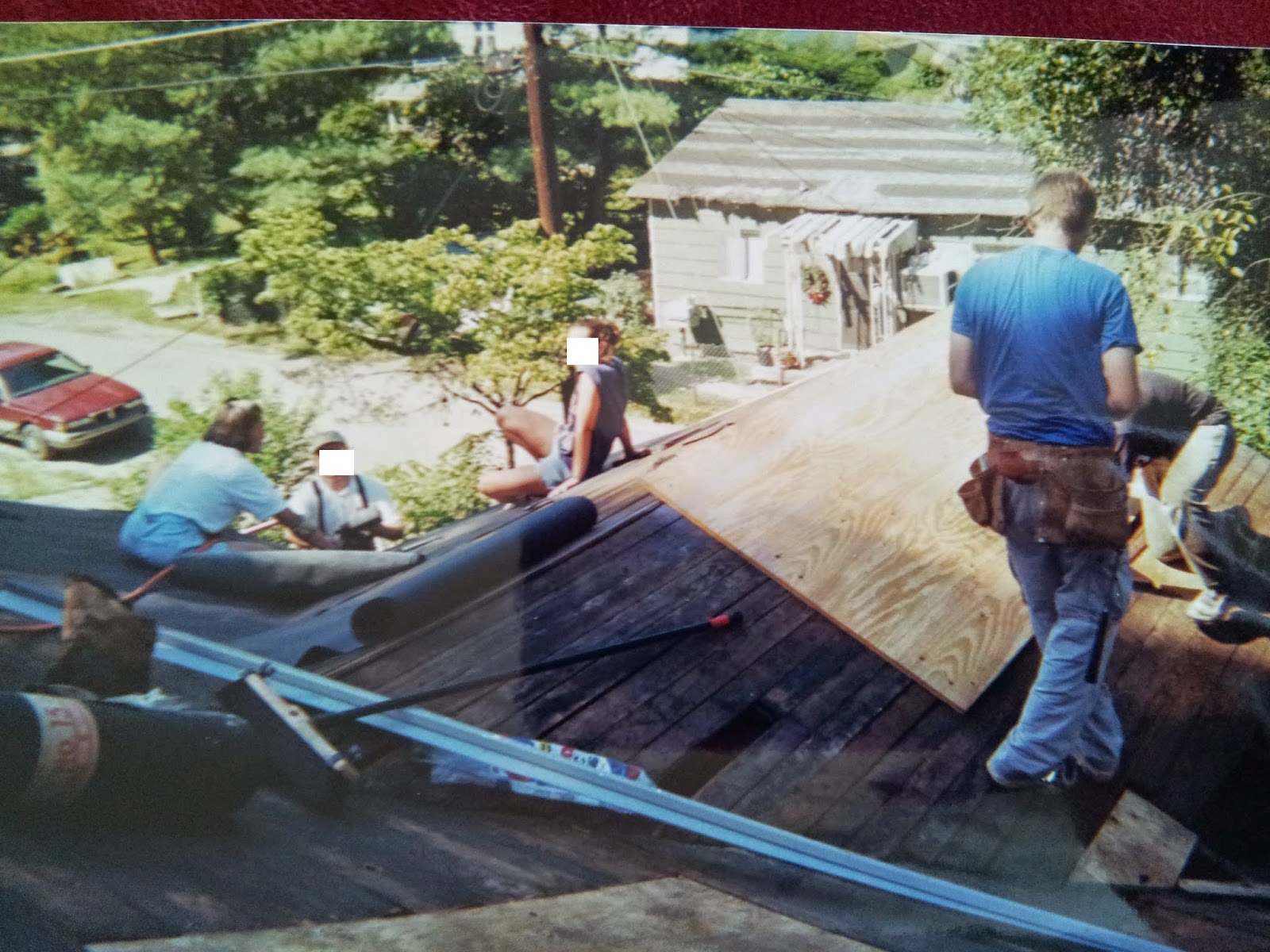 Other places had big holes in the roof (Before)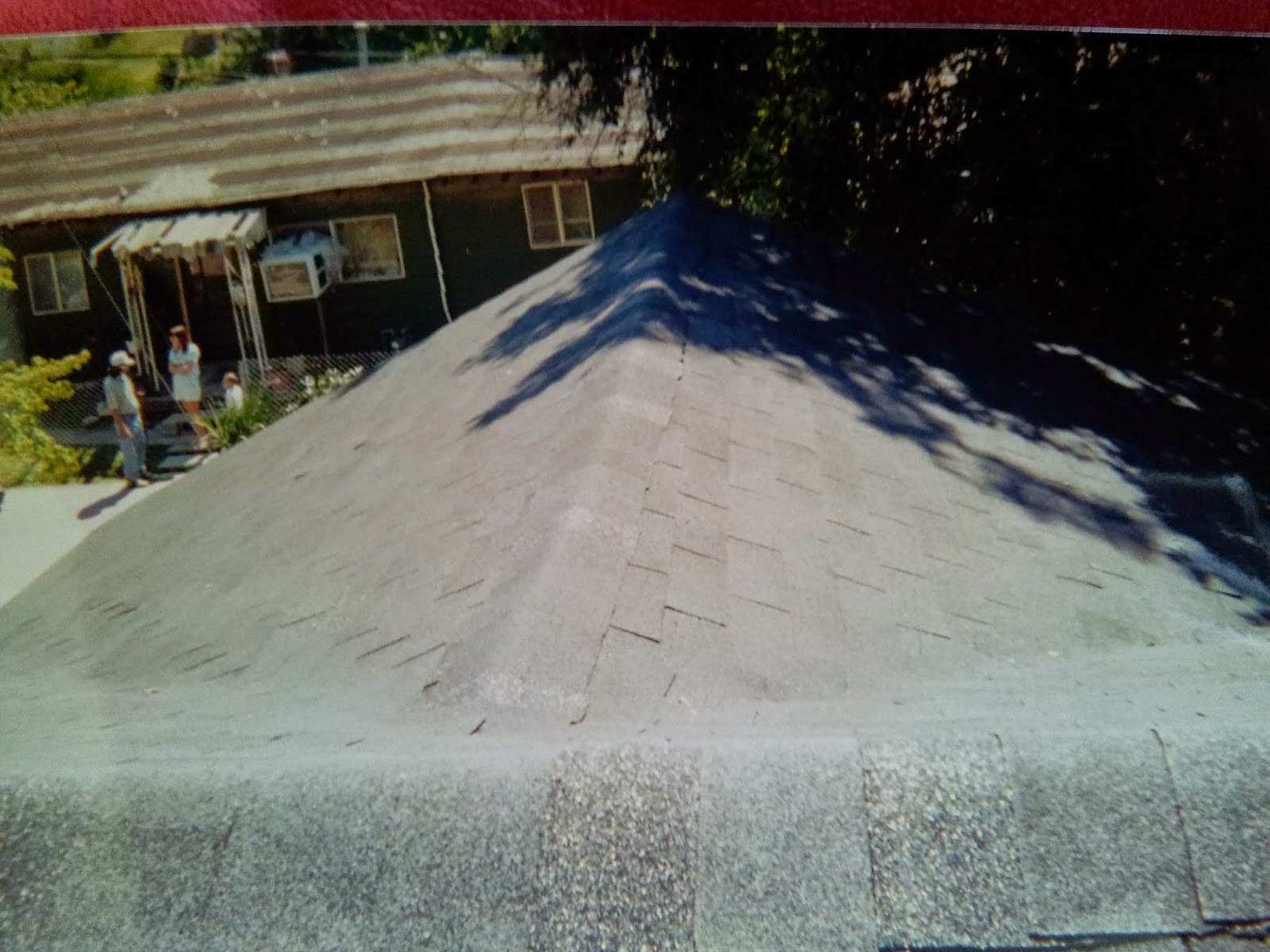 After
I learned a lot on that trip as well. I learned that lest I want to break my neck, I am way too tiny to carry boxes of roofing shingles up a ladder. I learned that flashing can slice your knee open like a circular saw. I learned that if you get tar on your skin you are going to have a hell of a time getting it off. I learned that if you don't drink enough water you can pass out and wake up embarrassed in the back of an air conditioned van. I will definitely say that this trip pushed my construction skills to the max. Between scraping and painting the entire house, ripping the old roof off and putting the roof on, caulking all the windows, and so very much more, I learned that I can rock a caulk gun like a champ but can't hammer a shingle nail straight to save my life.
After that trip I started on a series of trips to build a youth center in New Orleans. The idea behind it was that if we give the kids a place to go, we could keep them off the streets.
This is the street that the center is located on:
We would sit outside on our breaks and watch the drug deals go down, right out in the open, kids witnessing the entire thing. The sex workers would walk up and down the streets, doing their jobs while the kids played ten feet away. I'm certainly not shaming their job, it's just obviously not a great environment for children to be around.
We spent a lot of time with those children; children that I still hold in my heart to this day. Kids with fathers in jail and mothers on crack, they were desperate for not only food, but for love and attention. When we would walk outside with art supplies and juice boxes they would come running down the street cheering to greet us.
Back at the center we were busy laying the driveway, running lines for the Internet, building a computer room, painting, and putting together a game room.
By the time our trips were over, we had given the kids a safe place to do homework and just be kids. We gave them the only place they had to escape the horrors of their everyday lives.