A Better Way To Spend Your Time
---
"But no one will think I'm pretty!" she said, her 7 year old face starting to well up with tears.
Dressed as if she were going to be in an elementary school fashion show, she was wearing the dress that she begged me to stay up late last night and wash, enough plastic bracelets to accessorize the entire 2ndgrade, my cherry Chapstick (because "maybe my friends will think it's lipstick!"), and yet she still wouldn't get out of the car.
Looking at the 7 year old face wearing the cherry red Chapstick that I would never normally allow her to wear to school, my mothering instincts wanted nothing more than to lock the car doors, and take her back home where I could protect her.
But I couldn't do that and she knew it, because it was a conversation that had kept her and I up late many nights over the past few weeks; a conversation revolving around the fact that she didn't want to wear her new leg braces to school.
My daughter has worn braces on her legs since she was two years old, but a year ago at the suggestion of her physical therapist, we decided to see how she would do without them, and for about nine months she did great!
But then she stopped doing so great.
After a trip to the doctor and a check-in with her old therapist, it was decided that she needed to go back in the braces overnight and for periods of time during the day. To say that my daughter was crushed would be the understatement of the century. Although braces for her won't be a forever thing, she doesn't care, because for her they are a "right now" thing and right now she is in 2nd grade where the kids are learning to judge each other on anything and everything.
She doesn't want to be judged.
To her, she feels the way that every little girl wants to feel. She feels like a princess, a model, a singer, a dancer, a comedian, and a valedictorian. She is goofy, spunky, crazy, funny, smart, caring, precious, and loved. But when she looks in the mirror, she sees plastic that makes her feel "different, less than, and broken." And when that reflection shines back at her it overpowers the princess wearing the cherry red Chapstick and 37 plastic bracelets, because she knows that when other people look at her, they aren't going to be looking at her bracelets. She knows that the other kids (and even some adults) are going to be looking at her legs and that everything else that makes her who she is will become secondary to the one attribute that people will naturally focus on.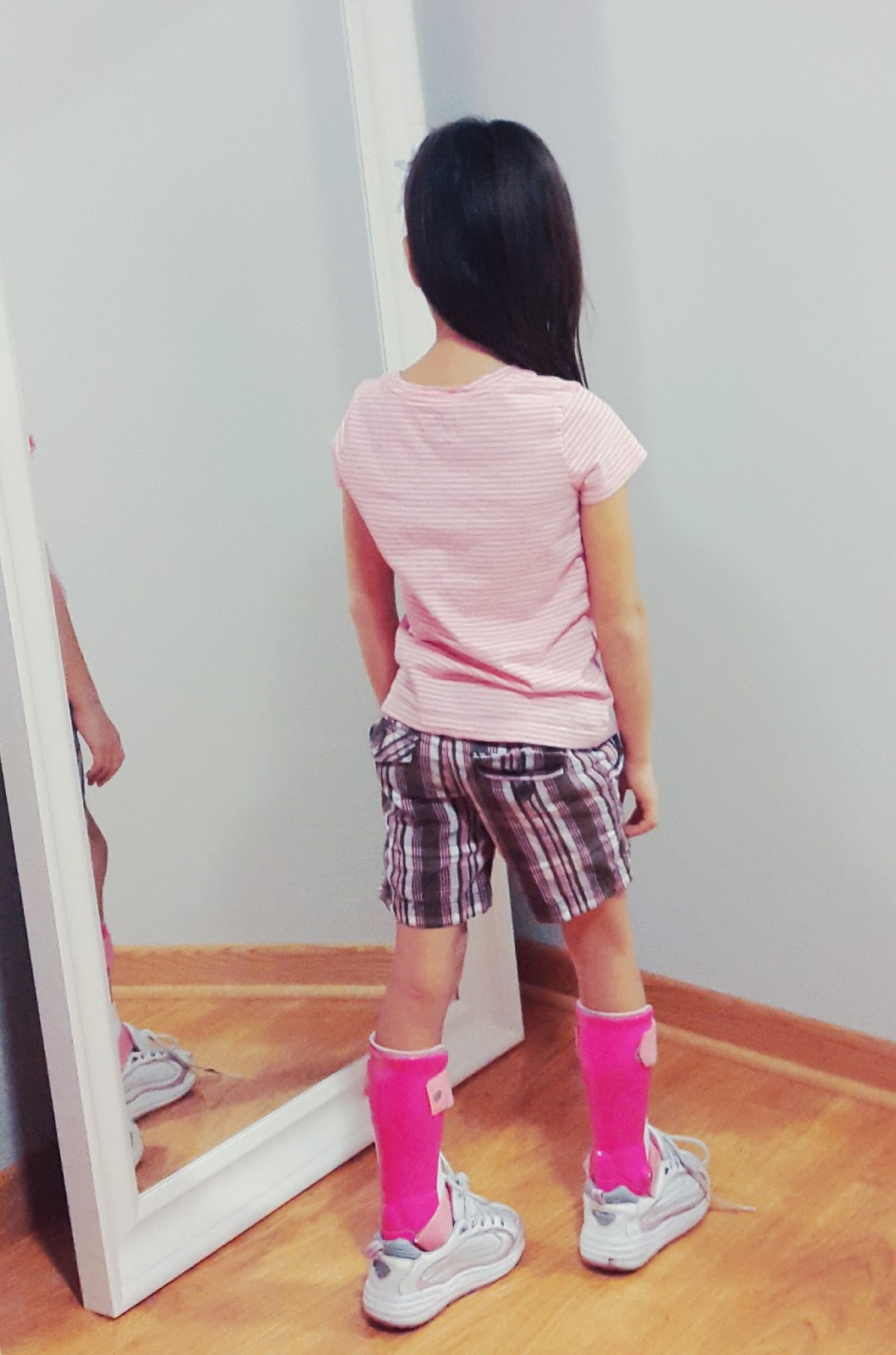 And it kills me.
Because she is so much more than plastic and Velcro, but people don't see that because they are too busy focusing on the one thing that they just don't understand; the one thing that is so very different from who they are.
When I started writing for Yahoo about what it was like to be a mother raising my children on public assistance, I had mixed feelings. On one hand I was excited to raise awareness to a situation that all too many families are in, but on the other hand I was scared.
Did you know that something like 700 million people read Yahoo every month? Don't quote me on that exactly, but according to Google that is what I found when I wanted to see exactly how many people might read my article… and judge me.
Let's be honest here, welfare is a hot topic these days and declaring "hi, I'm on public benefits" is not exactly the most flattering thing to disclose about yourself to 700 million people. I knew that there would be some backlash, and I expected it because I know how my financial situation is often perceived by other people.
It becomes my one and only attribute.
I've talked on this blog before about how
badly I've been treated
when people find out that I am a public assistance beneficiary, and I've also talked about how
I'm no longer choosing to let that define who I am.
I know who I am and for many of you who read this blog, you also know who I am, but for people who don't know me and learn that I'm on public assistance, they don't care to learn anything else because they "already know everything they need to know." And from what little they actually know, they have decided that they don't like me.
To them I'm not a
former missionary
, a
dance instructor
for abuse victims, or a nonprofit founder. I'm not the woman working two and three jobs a week or the mother taking care of two special needs children. In fact I'm not even anyone's mother or friend; to them I'm barely even human.
I'm just the girl standing there wearing figurative leg braces that people just can't seem to look away from; maybe not disabled by my body but rather in the choices that they assume have led me to the financial position that I am in today.
Poverty becomes the entirety of who I am.
Reading over some of the comments that came pouring in on my article
about using the food pantry
was hard. More than half of the people declared quite firmly that "
clearly my children have different fathers
," and that if I knew who he was than I was should stop being lazy and go after him for child support (my kids do not have different fathers, they were born out of an 8 year marriage to a man that is now making it
extremely difficult to collect child support
). 
And it didn't stop there, people went on to say things such as:
"That girl should have kept her legs together if she couldn't pick a man that would want to stick around and raise her half-breed children."
"She should have learned to swallow if she planned to pop out kids she couldn't take care of. Someone needs to sterilize her."
"The only thing this woman has left, is to market the only thing she has left; what's between her legs. Or if she is a looker, she may be able to find a rich guy that would put up with her kids."
"Does anyone know where this mother lives? Clearly her kids are being neglected and DCFS needs to be involved. If you can't pay your bills, you shouldn't have your kids."
"I hope this woman gets run over by a bus so that her kids have the chance to grow up in the home they deserve. If she ran her husband off, who knows what the hell she is doing to those kids."
But all of those hundreds of hateful comments were topped by the one that said "I feel so incredibly bad for her children. I can't even imagine how horribly fucked up they must already be having a mother like that."
A mother like that.
A mother who to them, is nothing but poor, lazy, a drain on society, and a dent in their paychecks.
So yea, reading those was super fun but to be honest they didn't really hurt me. I've been in this business long enough to know that there are some people in this world who have the unfortunate character flaw of being incredibly self-righteous and I've come to the sad realization that people will judge even when they don't know the whole story.
But what did hurt me were not the comments themselves, but the reality check that those are the exact people that I'm sending my daughter out into the world to be judged by; people who decide to hate other people based on the one single thing that they know about them and decide that they don't like.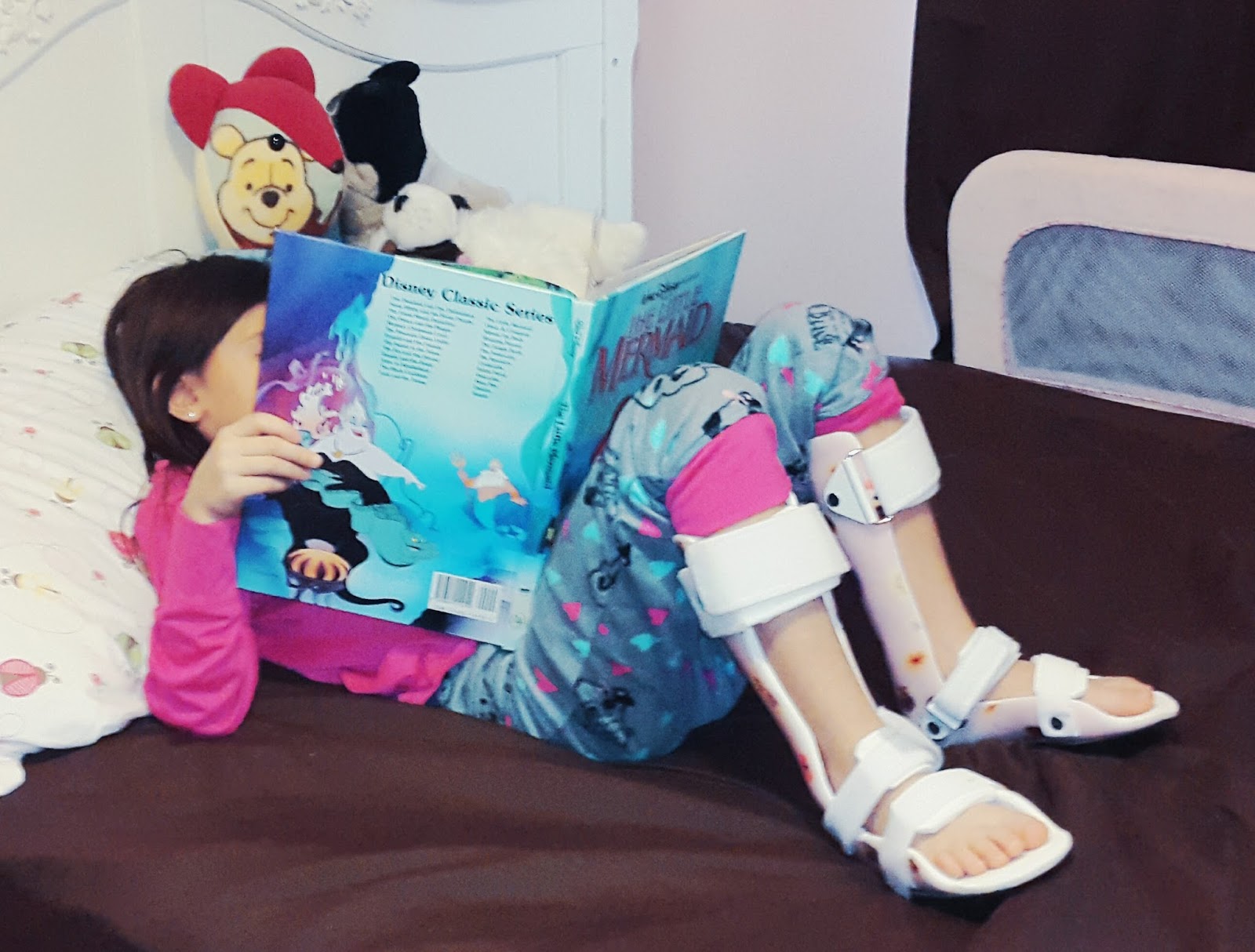 And sure, I guarantee you that most of the nasty commenters would be shaking their heads "no" and saying "but that's different, her daughter is a child and she can't do anything about her issues, it's not the same as her mother's problems," but the thing is, it IS the same because the judgments that have been thrown down upon me are the same as the judgments that are thrown down upon my daughter when the kids tease her; they come from a place of not understanding the situation, not wanting to understand the situation, and feeling as if they are superior enough to designate hatred to an attribute that they don't like.
They are the words of someone who lacks compassion, and often the words of someone who believes that others do not always deserve compassion.
I'm sad because these people are the adult versions of the bullies that tease my daughter.
Personally, I would like to think that our purpose on this planet is to create a greater good. That we — each being only one measly human being — were born to create an impact that is bigger than who we are, and that our legacy will continue on long after we are gone.
I would like to think that in this day and age of racism, terrorism, bullies, school shootings, and just pure utter hatred, that this would be the time for us to pull together in an effort to build people up rather than tear people down.
But that is not where our world is heading.
When I think of people whose impact was based upon nothing more than judgment of a single attribute, I think of Hitler. Everyone knows him, knows of his mission, and because of it he is remembered in vile disgust. His goal was simple; rid the world of anything that he deemed less than perfect.
As I said in the post
"She Didn't Even See Me,"
"
Just like Hitler, you can't simply write off people that you don't think matter, just because you don't think they matter.
Regardless of the skin we are in, the shape that we are, the number in our bank account, or the degree hanging on our wall; we all matter, we all have worth.

Success and value are not one in the same; they are two separate and unique entities, each worthy in their own right.

At the end of the day, at the end of your life, nothing matters but what you did with that life. The value of your actions do not lie within a degree, a title, or a bank account, they lie only in what you did with what you had.
A man is not made worthy by what he has, but rather by what he is willing to do with it, because worth does not come from what you have, value comes from who you are."
So when I read the comments of such hateful people who apparently, like Hitler, are living lives blinded by the delusions of their own perfections, I think what a waste. What a waste of someone who could have been so amazing, and yet chooses to be nothing but hateful and hurtful.
What a waste of someone who could have spent their time repairing humanity, but instead has chosen to add to it's destruction.
If value comes from who you are, and your impact on this world is to devalue others, logic states that your worthwhile value goes down when you become a person who is not needed.
Unfortunately the world just simply doesn't need people like you, because it does not need anymore hatred.
Every day we encounter people doing things that we judge; people who wear things, eat things, buy things etc. that we don't personally approve of, and we judge them for it because we have elevated our own personal worth to a standard that makes us feel superior to another person. Whether it's a mental snark that never leaves our lips or a gossipy comment that we make to a co-worker about someone else, we are judging people, and the whole time that we are placing our judgments, we are failing to realize that the person whose actions we should be most concerned about, are our own.
Your actions are not a reflection on the actions of another, they are a reflection of you and how you choose to handle yourself.
Our world is falling apart.
We are not just a nation under crisis, but rather an entire world in a state of survival, and the saddest part is that for as much as we band together to save humanity from global warming and a lack of clean water, the very thing that is most likely to kill us off is each other.
When we look back on Hitler, we see a man who was a mesmerizing speaker. He was obviously smart and driven, and he had the ability to captivate audiences and get people to listen to him. He had everything that would have been needed to really change the world, except that he let his self righteousness and hatred get the better of him; which is ironic since he judged others on a standard that even he himself didn't posses.
He had the ability to bring the entire world together, but instead he tore it apart. Divided between the people in his camp who were cheering him on (all his little trolls and bully friends), in the end it was the world who decided that they didn't need him and took him down.
So when we judge a kid wearing braces or hurl nasty comments at an Internet writer, classify people as nothing more than a skin color or a religion, snark on a co-workers ill fitting dress or her second slice of pizza, all we are doing is lowering the value that we ourselves hold in society, because when we spend our time tearing people down, we are wasting time in building people up.
Our world is falling apart, not because we have different skin colors, religions, kids who wear braces, and people on welfare, but because we have people killing each in a hatred that is quickly spreading across the world — simply because we refuse to accept people who are different from ourselves.
When we spend our time adding to that hatred, we are becoming part of the problem. So while we would like to think that our judgements are coming from a place of superiority, all we are really doing is exposing just how flawed we really are.
Value comes from what you add to the world, not from what you take away from it. Don't be fooled into thinking that as long as you aren't taking a life that you aren't destroying one. 
Words are powerful things and only when we use those words to really make a positive impact on society, are we really a valued member of society.
If you want to be heard, you need to give people a reason to listen to you in the first place, because people just don't line up to get judged.
And if you really want to be as important as you seem to think you are, maybe you first need to see how important other people are.
This world doesn't need anymore hate, it's got enough of that already, so if that's all you bring to the table, then the world doesn't need you because that position is filled.
If you want to see a change, then be a change, but be the change that people need.
People don't need to be whittled down to the one thing that you don't like about them, they need to be built up because of everything that they are.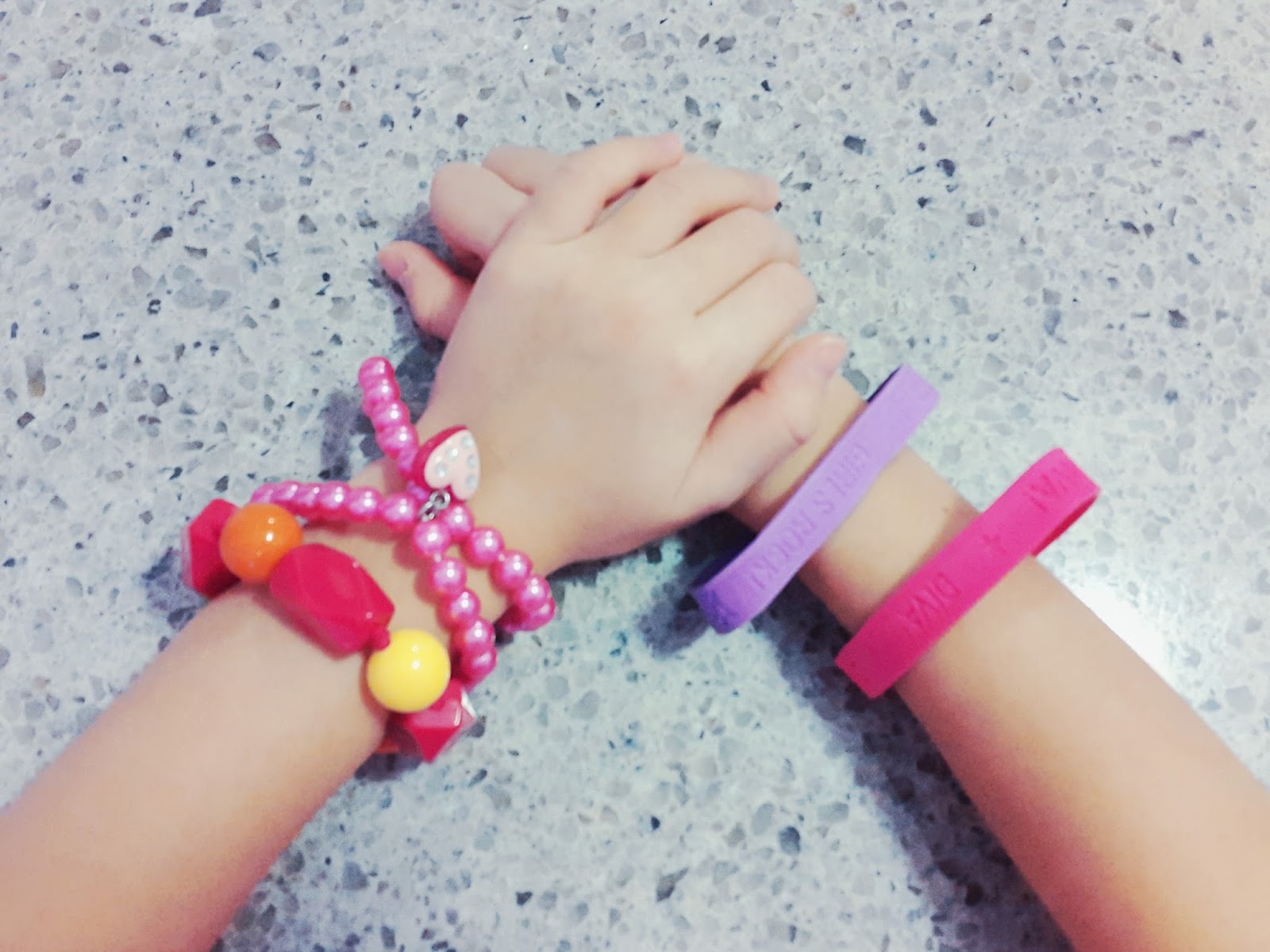 If you want to be important, give people a reason to see your value.
You have the opportunity to change the world, so please don't spend your time trying to destroy the people in it.
 ****************
If You Liked This, Read These Relatable Posts!