On Losing My Anonymity
---
We were in the car, all six of us, a few girls that I knew and a couple that I didn't. We had been in the car for a while when somehow the topic of Botox came up, which immediately segwayed into the topic of plastic surgery. As the girls were commenting on what they considered would be "going to far," eventually the conversation turned to me. I laughed and then said "well hell, I don't know what kind of judge I would be,
I've already had a nose job
!"
I then braced myself because I knew exactly what was coming next.
Every single head in the car, with the exception of the driver, turned around in their seat to get a better view of my nose.
They all do it, every single time; anyone who has just learned that I had a nose job. They want to see exactly what it looks like — judge the work if you will — and in doing that they most often judge me. I can see it in their eyes before the words even start to stumble out of their mouths. It usually starts with something along the lines of "…..oh… well… wow. I mean it looks great! You can't even tell… I never would have guessed. I mean no one would ever know."
When it comes to nose jobs, people assume that you would never want anyone to know. They assume that having plastic surgery on your face is something that you would be ashamed to admit, that maybe you don't want anyone to know that you are now "fake pretty" — that you paid to look like this.
There seems to just be something inherently shameful about admitting that what people see might not be the "real" you.
Plus, there's something culturally shameful about admitting to being vain and that's the only reason people have "nose jobs," right?
If you remember, I had the surgery done to correct a nose that was first broken when I took a knee to the nose as a child — a break that literally shoved my entire nose upwards and instantly created a large bump. It was broken several more times over the course of my lifetime and eventually settled leaning off to the left side of my face.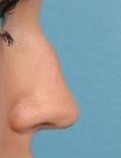 Surgical "before" picture
Not only was it crooked and bumpy, but I had a sinus infection that had literally been hanging around for years. Yet even though I was the perfect candidate for surgery (and why my surgeon took me as a patient even though I couldn't afford him), I had all these ideas in my head about how I would hide the procedure from everyone; how I would just sort of disappear after the surgery and then reappear once I had healed. I didn't want anyone to attach my face to the shameful stigma of plastic surgery and I was determined to keep that from happening.
But when I had complications after the surgery and realized how much longer it was going to take me to heal, I faced the harsh truth that whether I liked it or not, everyone was going to know what I had done.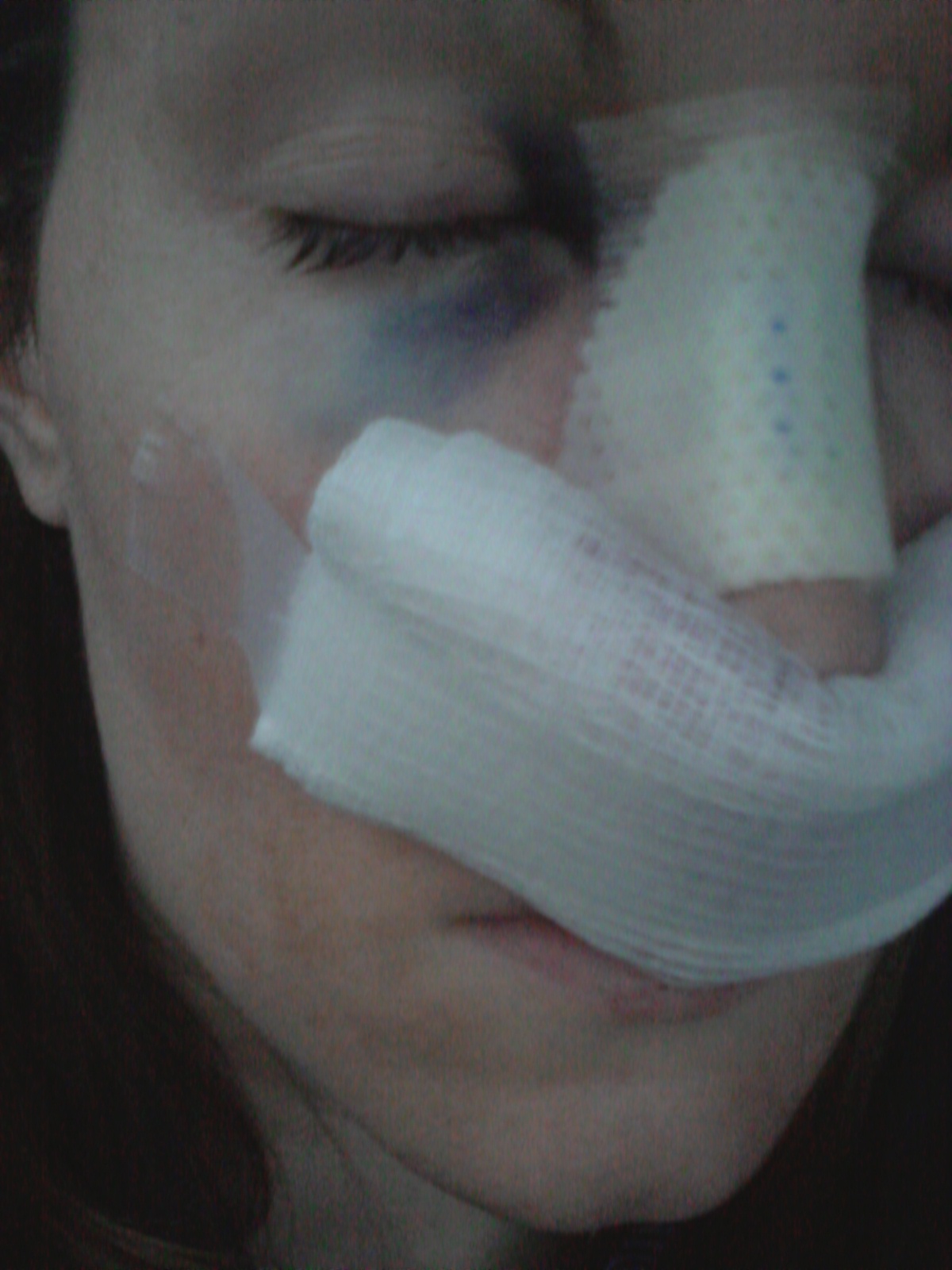 It was more than slightly uncomfortable — literally and figuratively.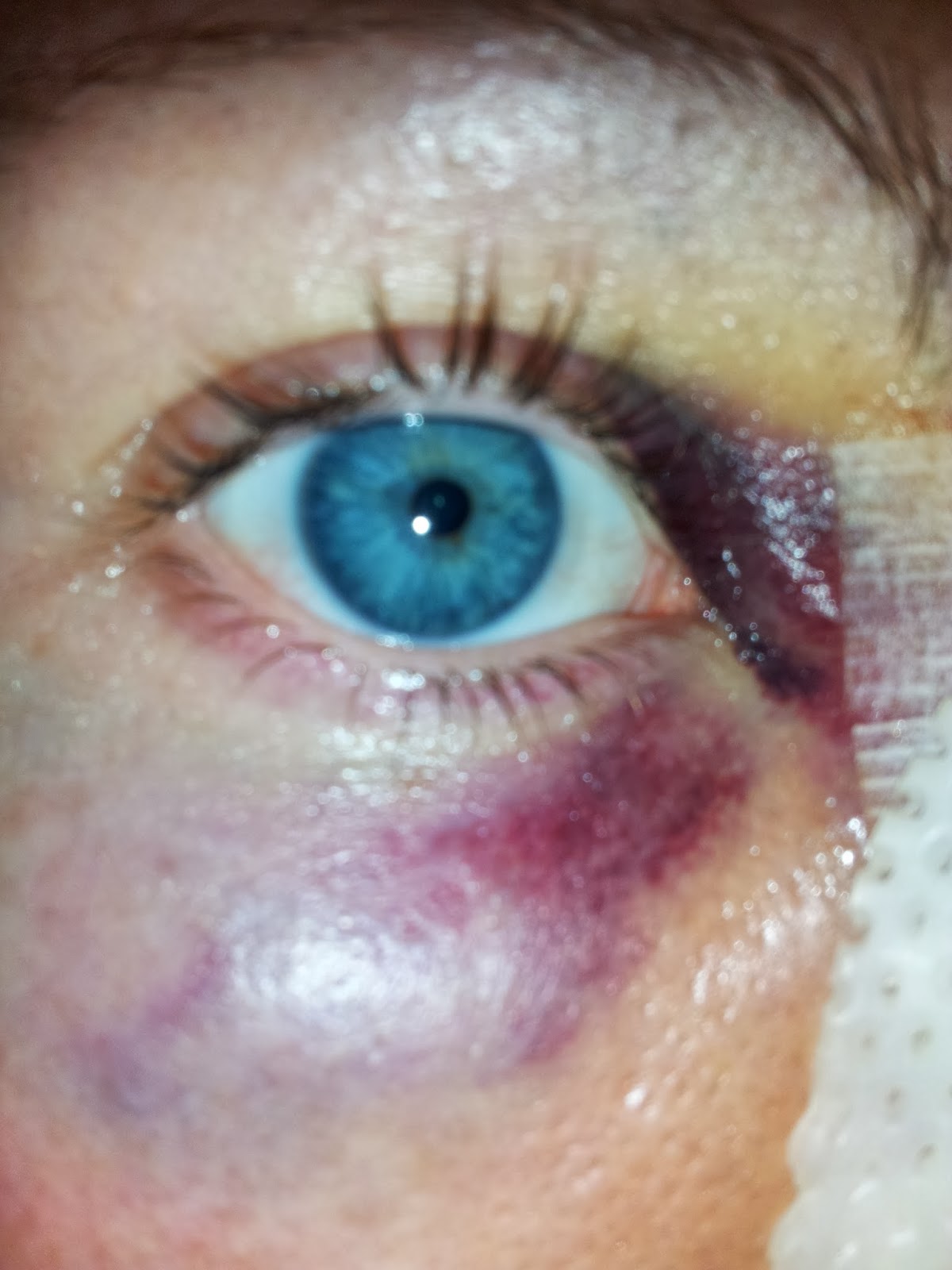 If you remember from the post "My Ex Is What Happened To My Face," I ultimately decided that I had nothing to be ashamed of in my reasoning for having the surgery; that I had been abused, it wasn't my fault, and my surgical bruises were evidence of healing in the wake of trauma.
When people looked at my face in horror, I told them the truth.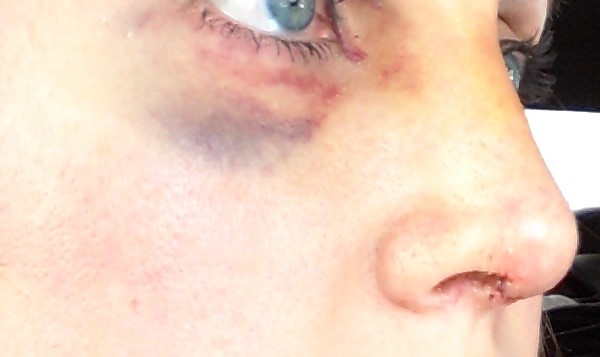 Nostril stitches, fun times
I was proud of myself for sharing my story and I stand by my decision to allow myself the dignity to wear the face of truth.
I wake up every morning, look in the mirror, and I'm happy with what I see. Surgery wasn't the beginning or the end of my healing, but it was a part of it. I have scars that I emotionally bear on my heart, scars that I physically wear on my skin, and scars that I was lucky enough to have surgically erased from my face. I know what I did, I know why I did it, and a year in a half later that's enough for me. It's enough for me to look in the mirror and for once in many, many years, see myself.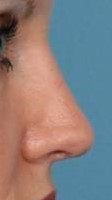 Surgical "after" picture. Excuse the pores lol. You try wearing a glued on cast!
And yes, some people judge me for having "plastic surgery," it happens, but I don't care.
Their feelings on my life choices do not affect my feelings on my life choices.
I made the decision to do what I did and I'm happy that I did it.
Over the past year I've been busy working on my nonprofit and in doing so, I've been forced to share my life story with the public. I say "forced" because it wasn't something that I initially wanted to do. I remember sitting at dinner one night with Mr. Attorney Man and another person on our board and saying "I don't want to be the face of abuse. I want to run this organization, but I don't want to be the story behind it."
The other person looked at me and said "but this is why I joined on. You are the story behind this organization. It's your face that carries this story, it's your face that people need to see."
And she was right. Surgery or no surgery, my face is linked to my story whether I'm OK with that or not. I've now spent the last year on a tour of public speaking dates where I stand up and publicly admit that I am the face of abuse.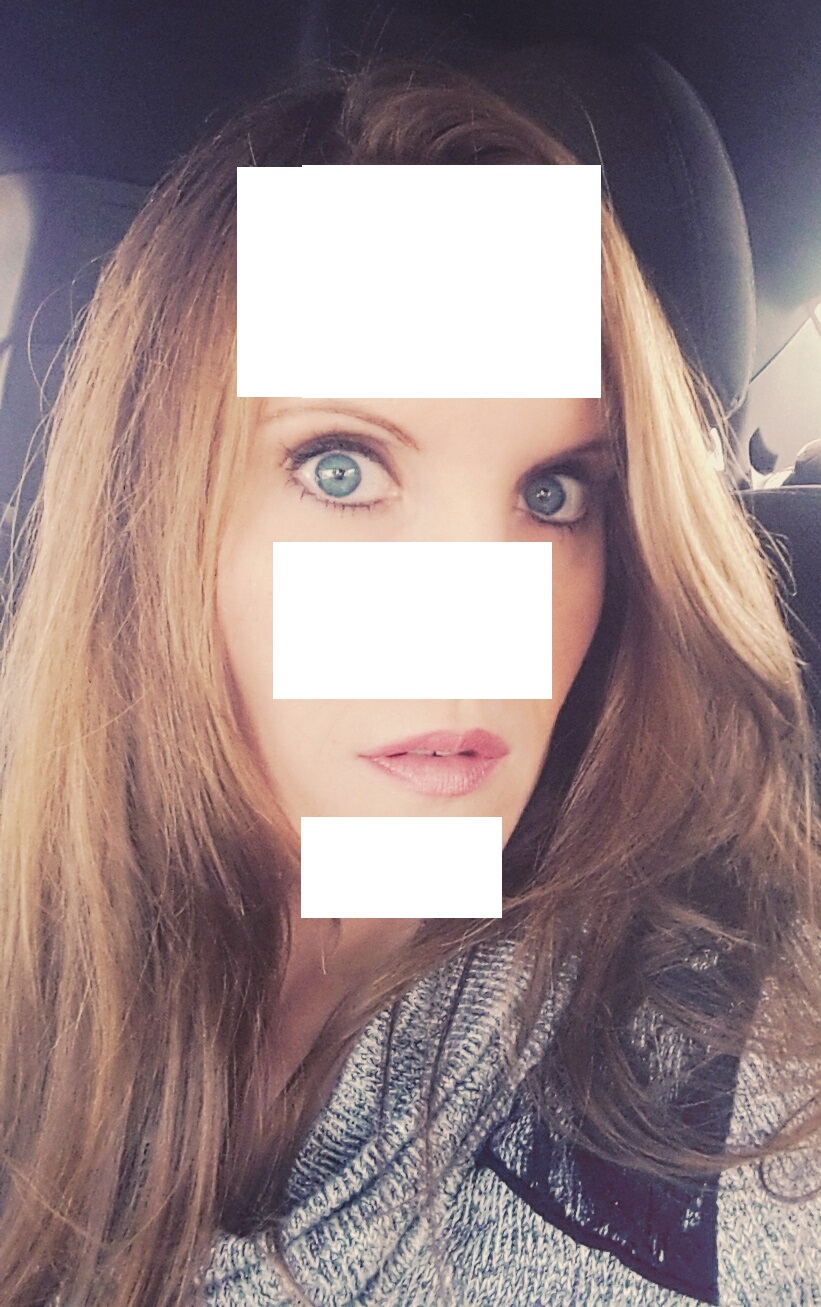 When I started this blog two years ago I made the decision to remain anonymous because at that time I was struggling with the shame and stigma of past. I was desperate to find others out there like me, but I wasn't sure that I would find anyone at all. I wanted to know that I wasn't alone, but I didn't necessarily want anyone to attach my story with me.
I was afraid to be judged by the choices that I had made and where those choices had led me. People judge what they don't understand.
As the blog grew and my readership base exploded, I became even more fearful of what might happen to me if I were exposed.
Mr. Attorney Man
and I had many conversations that involved me asking him what he thought
might happen to my professional life if my blog were exposed,
and in the end I realized that everything I write on here is already part of my professional life
(I'm one hell of a shocking public speaker due to my complete and utter lack of a filter, just in case you were wondering).
There is absolutely nothing on here that would shock anyone who knows me, professional or otherwise, and as of late, my anonymity is actually holding me back.
I was telling Mr. Attorney Man the other day, "I started this blog so that I would have the freedom to be myself without the constraints of having to adapt to what society expected of me. I wanted a place where I didn't have to be two people all the time; where I didn't have to be one person at home and one person in the real world. Like most victims of abuse I constantly had to hide away my secrets and put on a different face for the world, so I wanted the blog to be the one place where I could just be unfiltered, but now I've come full circle and the problem is reversed. In an effort to maintain my anonymity I can't talk about some of the things that are most important to me, like the nonprofit. I can't talk about the places I like to go, the events that I'm working at, and I spend a ridiculous amount of time editing photos. I have these two really awesome careers and I can never let them meet. I wanted to be anonymous so that I could be free, but now I'm trapped by it."
That is how it feels. I feel trapped here.
I have this wonderful nonprofit organization that I would absolutely love to share with you, but I can't. I'm missing out on the chance to further my writing career because I can't tell anyone who I am. I'm turning down talk show TV requests and live news interviews (in relation to this blog and the nonprofit) all the time in an effort to maintain my anonymity. I'm missing out on so many opportunities to link my worlds, bring a ton of awareness to my cause, and really help people, but I can't
And sure, right about now you might be thinking "well gee Eden, then just tell us who the heck you are and be done with it," but it's not that simple.
First off, I'm not unaware of the fact that I have a small readership base of rape fetishists reading this blog. Mr. Attorney Man and I have long talks about my safety, and openly revealing who I am has some obvious safety drawbacks.
Secondly, my ex. He isn't a pleasant guy and linking my real life name or nonprofit to this blog would open up a whole new way for him to stalk me and my children; especially after he made Mr. Attorney Man and I well aware last time we were in court, that is watching what is going on with the nonprofit.
Third, my family. I've always known that if they found out that I was writing about them, that the consequences would be dire. They are a big group who does a wonderful job of sweeping their dirty little secrets under the rug and throwing the "traitor" out to the wolves.
They spent my entire lifetime burning all the evidence of the injustices against me and an even longer time perfecting the façade of my happy existence. If you look back today, you aren't going to find a stack of social work paperwork, you are going to find an album full of photographs: pictures of me smiling on vacation — a vacation that ended when I was abandon at a hotel. I've always known that if this blog came to light, that they would take me down.
As hard as I've worked to be heard, they've worked even harder to silence me.
We've both been fighting for our survival, but against them I've never won.
A few weeks ago my children and I were in the news for an unrelated subject. The media outlet quoted me saying that I was estranged from my family.
My parents found out.


They were not happy that I had "shamed" my family's name.
I was firm that they had put themselves in that position.
We had the longest conversation that we have had in 18 months.
It felt great.


After that happened I had a long conversation with Mr. Attorney Man where I basically told him, "I'm going to tell my parents that I'm writing about them. I mean it's not like anyone who knows me and comes across this blog can't easily tell that it's me, it's going to get back to them sooner-or-later. I know they are going to flip out, call me a liar, gang together and claim that the abuse never happened, but I don't even care anymore. Not only do I not care what they think, but I'm so tired of hiding from the explosion that I'm sure will follow, that I'd rather just get it out in the open and face what I've been hiding from. If the fallout is going to be huge, I'd rather just deal with it now, in private, without the entire world watching."
He wasn't so sure about that idea, but I'm not so sure that it's a bad idea.
I love this blog, I'm not going anywhere, but I'm tired of living two lives and being in fear of the day they might meet. For obvious safety reasons it's still not a great idea to go all "here I am world!" but I'm taking steps to join my two worlds together.
I'm not totally sure where those steps will lead me yet, but I'm tired of standing still.
I had a nose job and it hurt. It was complicated, ugly, and showed the world what abuse looks like in ways that many people can never imagine.
But I healed, I'm happy I did it, and I wake up every day feeling thankful for the choice that I made in not only having the surgery, but in allowing people to know why I even needed it.
Despite what anyone thinks of the choices that I've made, I am the face of abuse.
I just need to figure out how to let you all really see that face.
I'm not sure how, I'm not sure when, but my first step in allowing you all to see who I really am, is letting my parents know about this blog. They need to truly see the face of the child that they "raised." Not because I think they will suddenly have remorse, not because I think that it's going to change our relationship, not because I even care what they think, but because I'm tired of having to protect their secrets.
I am the product of what they did to me and I refuse to hide anymore just to protect them.
I refuse to live two lives in an effort to better keep their secrets.
I'm OK being the face of abuse… because I also get to be the face of recovery, and if they don't like it, too bad.
I never cared much for what they did to me and that didn't stop them.
This is my life now.
My one and only.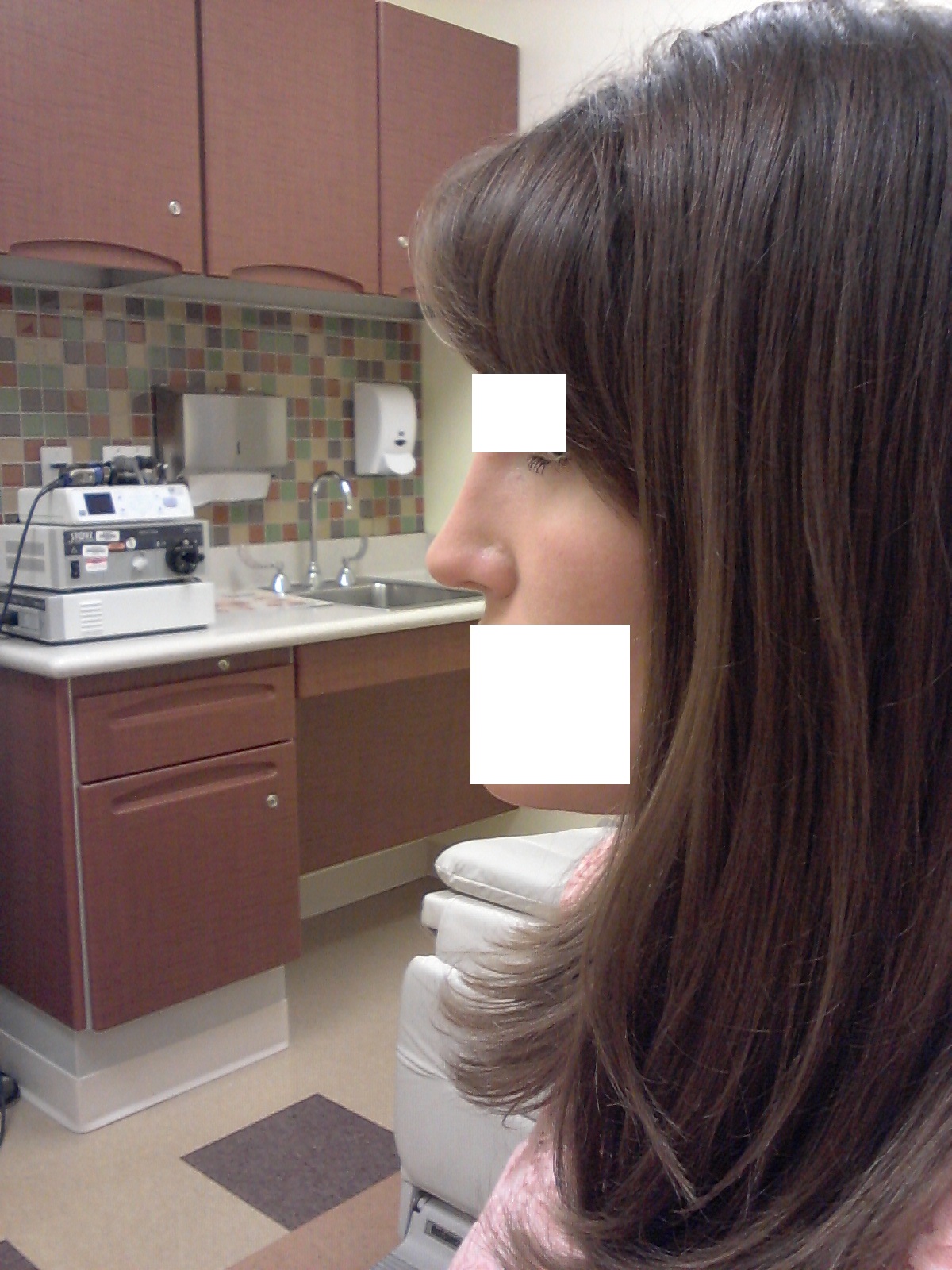 Post op surgical appointment
****Stay tuned guys, the ride is about to get bumpy.******
***********************


If You Liked That, Read These Relevant Posts