A Week In Eden's Life; Super Fast Weekend Post
---
Hi Everyone!!!
As I explained in the post "Please Excuse This Brief Interruption," I'm taking some time to be with my family over the weekends, so today's actual post is taking place over at Lifetime Mom's.
In the meantime, I see that a few of you have posted asking me to write a post on sexism. To get the discussion up and running, I invite all of you to leave a comment explaining a time when you felt discriminated against because of your gender, or just about a time when you felt that your gender gave you less of an advantage. I can't wait to hear everyone's opinions and stories!
Before I go, let me catch you up on a week in Eden's life;
Someone lost their first tooth;
I have no picture for this because ew yuck, but we are deep in the throws of potty training over here. I have to say, I suck at potty training a boy. Like, I don't have a penis, I don't know how to pee out of it, and quite frankly I don't want to know. I also don't want to see all the tricks and fun things you think you can do with it because I am your mother and this is scarring me for life, so can we please just get this over with???
In other news, the kids were very generously taken to a local play center with Frisbee Boy's Mom as a belated birthday gift;
On thursday my friends invited me to go Salsa dancing with them. It only cost a couple of dollars and I had a free babysitter, so I figured "eh, why not." I agreed to go however before I realized that Salsa dancing is done wearing heels. Heels.

Heels? Me? I am not one of those girls that can run in heels. I would probably go as far as to say that I am barely one of those girls that can walk briskly in heels. So dancing in heels? Ha. Sure….sounds like a jolly old time, if you're in the mood to break your face…
It didn't really make me feel a whole lot better when I texted one of my friends whom is about as professional as you can get in the "wearing heels" department and asked how dancing in heels went for her the previous weekend, and this is the response that I got;
So I decided "well screw that, I'm pretty sure I'm going to land on my face at some point, so, I'll wear this…."
but under that I'll wear shorts and I'm bringing tennis shoes just in case this whole "dancing in heels" thing does not work out for me.

You can't really tell from this pic, but I am wearing the dress and just lifted it up to show the shorts that I did indeed wear under it! (the bottom part is bunched under the shoes)
No one suspected a thing….
nor did any of the old men that were there that night. Note to self: don't go early on a weeknight.
The only dude that was even remotely my age, dressed in a neon orange shirt, suit pants, vest, and bow tie, came over right away, pulled me out onto the dance floor, and began doing moves that I have only ever seen in the movie "Flash Dance." No, I'm not kidding. I pretty much just stood there with my mouth hanging open while he said something about how he was going to straighten me out (does anyone even know what that means? If so please explain) and then pulled me off the dance floor so that he could show me all the Facebook pictures on his phone. Nope, I'm not making that part up either. I really had no idea what was going on. I have to say though, he was still better than the guy that tried to massage all of my friends hands (mine included) or the random girl that grabbed my ass.
It was a really weird night.
Also, just to add real fast, a lot of you have asked how I am able to go out so much while being a single mom living below the poverty line. Truthfully, around the time that I wrote the post "My Life Is Completely Unrealistic" and the infamous "I Freaking Hate Mother's Day" article over on XOJane, I finally let my friends in on the little secret that I was about to lose my mind. I was so overwhelmed with my multiple jobs, kids, family drama, rape trauma, and just life in general, that I was really struggling to "remain calm and carry on" as the saying goes. With the kids dad being completely absent and having absolutely no family support, I was struggling to balance multiple jobs and 24/7 only parenthood, while having no real break in between.
I have a phenomenal babysitter, but since I can't always afford her I was starting to lose my mind.
My friends, being as awesome as they are, banded together to ensure that a couple nights a month I would be blessed with free childcare. I usually take the opportunity to have a girls night out or to go on a date, always choosing the least child friendly activities that I can think of that will also be little to no money out of my pocket. It has afforded me not only the much needed opportunity to revitalize a few of my stressed out brain cells, but has also made me a more relaxed person, a better mom, and better equipped to be who I need me to be.
Anyways, I miraculously did not fall on my face Salsa dancing, which is especially great since I finally got released from the surgeon! Yay new nose and good-bye having to see trauma reflected in the mirror!!
In other news, the kids got along well, which any mother knows is reason to celebrate. Here they are playing with the girl child's Barbie Pool. Well, the girl child was playing with it, the boy child was "fixing it."
Also this week, there was a local festival a few minutes from my house so I invited my friends and we took our kids. I prepared the kids beforehand that we were only going to ride two rides, we weren't playing games, and we didn't have money to be buying food. I hate having to squish their dreams before we even get there, but I have to stay in budget and no mom wants to be having this conversation once you get there and the kids eyes are already huge with excitement for all they think they are going to do. I really hate that I can't afford let them do more 🙁  Like I REALLY hate that. I just want to be able to give them everything, even if it's just for a day.
Either way, everyone had a great time, my friends were extremely generous and treated my kids to a few things, and in the end I think they were definitely worn out!!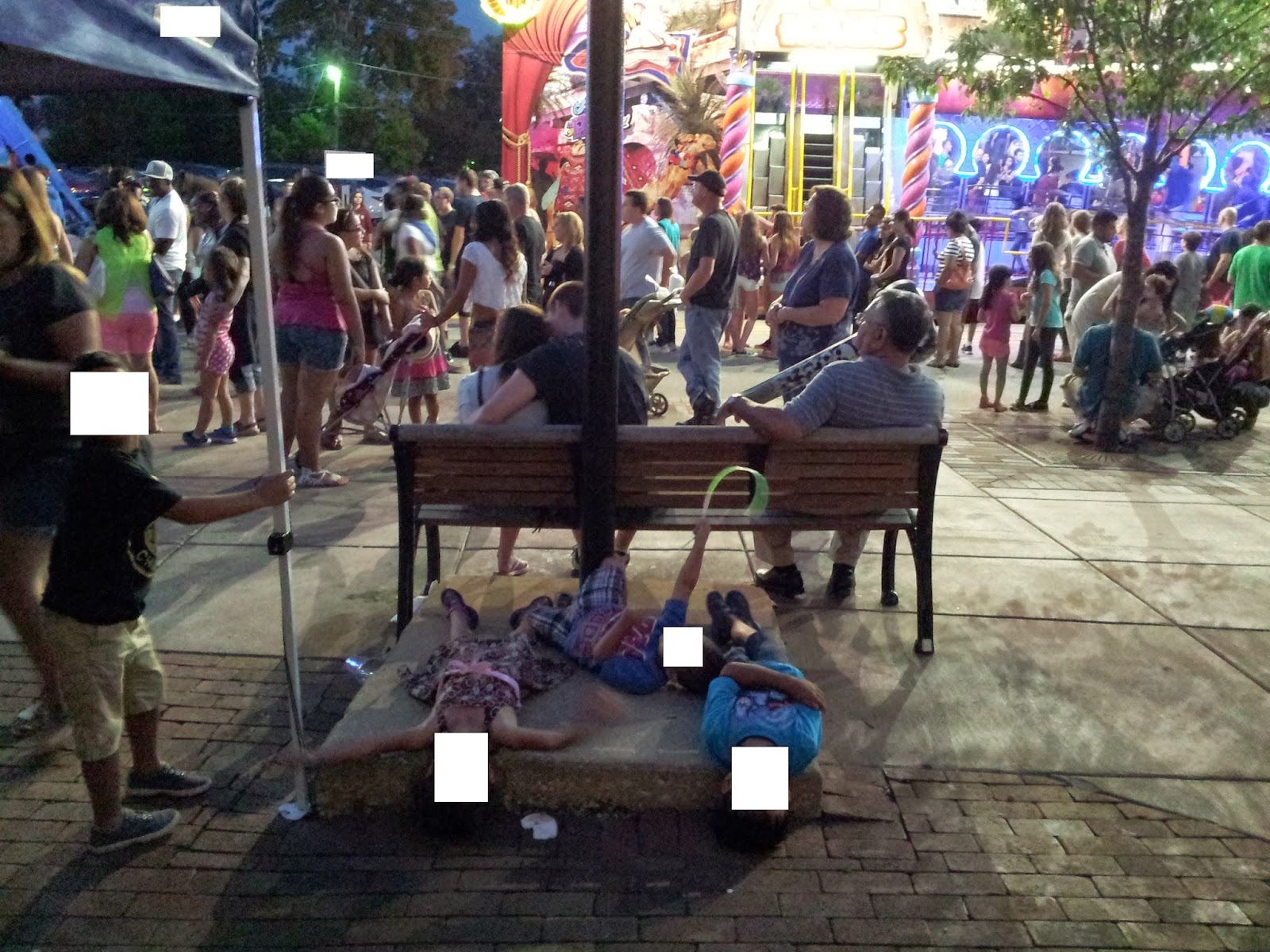 If you can't tell, thats my girl child, my boy child, and my friend's child, lying on the ground with their heads hanging off the pavement block.
Well, that's all for now! Speaking of a night where I stayed home and laid on the couch, I gotta go help a dude who lost his keys in my couch and has been looking for them for over thirty minutes. Dude….it's a couch, not a forest preserve, how hard can this really be?
Please excuse any typo's and grammatical errors, I'm swearing off editing for these super fast weekend posts.